AMD ATI Radeon HD 3870 graphics chip
Watch out, GeForce 8800 GT
We tested a Sapphire HD 3870 on an MSI X38 Diamond motherboard with an Intel 45nm Core 2 Extreme QX9650 'Penryn' processor and 2GB of OCZ DDR3-1333 memory running on Windows XP SP2.
The contest was a little unfair as we were using a PowerColor HD 2900 XT with 1GB of GDDR 4 memory instead of the more usual 512MB, but broadly speaking the 3870 and the 2900 XT had similar performance. The difference in noise levels and heat output was quite astonishing, however, as the 2900 was horrible and offensive while the 3870 was cool, calm and collected.
Crysis Results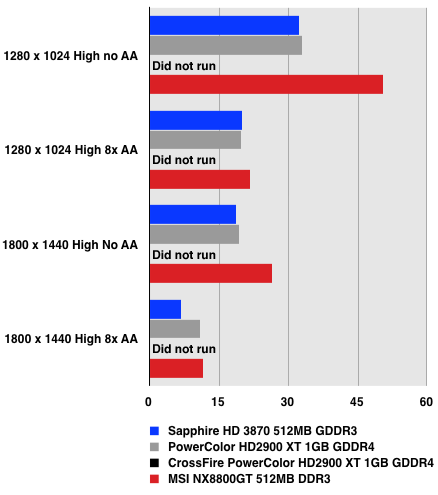 Results in average frames per second
Longer bars are better
As we had a pair of the PowerColors we ran them in CrossFire to get an idea how we expect the 3870 to scale. Although we patched the drivers with a hotfix for Crysis, we found that CrossFire performance in the new game was lower than a single graphics card so it's clear that the drivers need some work. In 3DMark06 and FEAR: Extraction Point the performance of the two cards in CrossFire was epic.
3DMark06 Results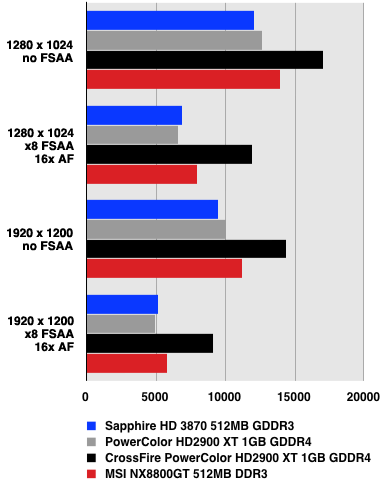 Longer bars are better
FEAR: Extraction Point Results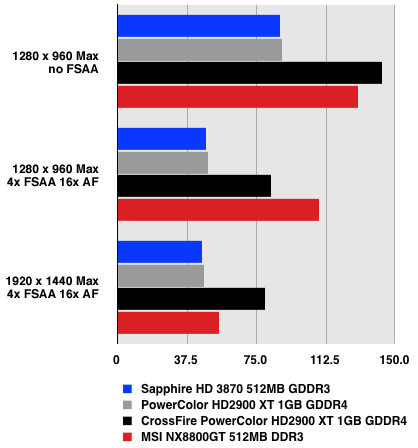 Results in average frames per second
Longer bars are better
For comparison, we used an MSI GeForce 8800GT which consistently beat the 3870. The figures are a little confused as we used different screen resolutions for Crysis. However, the 8800GT was running at a higher resolution than the Sapphire 3870 and it still returned higher frame rates. You pay £30 more for the MSI 8800GT than you do for the Sapphire HD 3870, and Sapphire chucks in a moderate bundle of software to make the deal even more appealing. There's Cyberlink DVD Suite for producing DVDs, CyberLink PowerDVD 7 for watching them, and a voucher for Valve's Black Box which consists of Half-life 2 Episode 2, Portal and Team Fortress 2.
Verdict
The ATI Radeon HD 3870 is a decent package at a very fair price but the fact remains that AMD's latest and greatest graphics card can't quite take the fight to Nvidia's GeForce 8800 GT. Perhaps it's a good thing that AMD has produced a graphics chip that is relevant to the guy in the street without any pretension of being the fastest chip in the world. Either way, we're very glad to draw a veil over the hot and noisy Radeon HD 2900 XT.
Sponsored: Minds Mastering Machines - Call for papers now open

AMD ATI Radeon HD 3870 graphics chip
AMD takes aim at the superb GeForce 8800 GT with its new Radeon HD 3870 and hits the mark, kind of...