AMD ATI Radeon HD 3870 graphics chip
Watch out, GeForce 8800 GT
Despite the similarity between the 3850 and the 3870 the two cards use quite different form factors. The 3870 is a double-slot design that vents air through the mounting bracket as per the X850, X1800, X1900 and HD 2900, while the 3850 is a single-slot card that keeps the hot air inside the case much like an X1950 Pro or, indeed, an 8800 GT.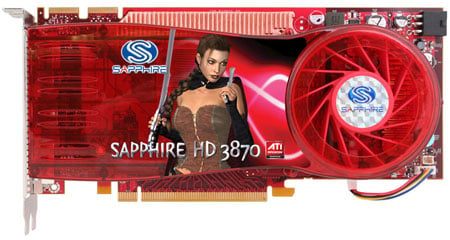 Ready for four-card CrossFire X...
The most obvious technical difference between the two models is that 3870 has 512MB of GDDR 4 memory and 3850 uses 256MB of cheaper, slower GDDR 3.
The 3000 series chips employ a PCI Express (PCIe) 2.0 interface which is handy if you have an Intel X38 motherboard. However, the extra bandwidth of the new interface won't yield any immediate advantage. Think in terms of removing a potential bottleneck in performance and then lift your sights to the prospect of CrossFire X in January when we will have the prospect of up to four graphics cards working on the same image. It sounds like it might be marvellous but we'll reserve judgement until we've seen the thing in action.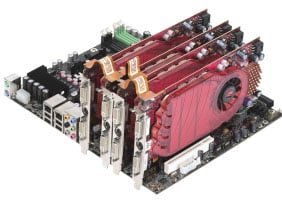 ...but you won't see it until early 2008
Intriguingly, both the 3850 and 3870 use a single six-pin power connector to supply extra power despite the fact that PCIe 2.0 can deliver 150W through the graphics slot. However, most graphics cards will look for an extra power connector, so you need a six-pin power connector even if it isn't strictly necessary.
How They Compare
| | | | |
| --- | --- | --- | --- |
| | HD 3870 | HD 3850 | HD 2900 XT |
| Transistors | 666m | 666m | 700m |
| Process | 55nm | 55nm | 80nm |
| Stream Processors | 320 | 320 | 320 |
| Core Clock | 775MHz | 670MHz | 740Mhz |
| Memory Clock | 2.25GHz | 1.66GHz | 1.65GHz |
| PCIe Version | 2.0 | 2.0 | 1.1 |
| UVD | Yes | Yes | No |
The 2900 XT didn't have a UVD because the core was too large to allow the inclusion of unnecessary extras, so your PC had to decode HD-DVD and Blu-ray movies with brute force courtesy of your CPU. With the 55nm die-shrink AMD has freed up a stack of space and reduced the cooling requirements to such an extent that the 3870 runs as quietly as the benchmark GeForce 8800 GT so a noisy processor cooler would be a real intrusion during movie playback. Enter stage left the UVD, although movie buffs should note that the new graphics chip employs the same HD audio processor as the 2900 so it's HDMI 1.1 rather than 1.3, which kisses off the prospect of Dolby TrueHD and DTS Master HD.
Sponsored: Minds Mastering Machines - Call for papers now open