Blu-ray dominates Japanese HD recorder sales
Can HD DVD catch up?
High definition media like HD DVD and Blu-ray Disc has increase to account for just under 20 per cent of Japanese consumers' retail recorder purchases, numbers from market watcher GfK show.
And of the two HD formats, Blu-ray has been outselling HD DVD by a hefty margin.
For the week ending 12 November 2007, DVD's share of the Japanese retail disc recorder sales was 80.2 per cent, down from 83.4 per cent the previous week, GfK's figures - supplied, we should say, by the Japanese wing of the Blu-ray Disc Association (BDA) - show. For the previous three weeks, moving backwards, DVD's share was 84.8 per cent, 91.9 per cent and 94.7 per cent, respectively.
A clear shift to HD media, then - over the last five weeks at least.
HD DVD's share of the HD recorder market hasn't exceeded five per cent during the five-week period GfK's figures cover. It started out at 4.2 per cent, had fallen to 1.3 per cent by week three then risen to 2.8 per cent in the week to 12 November.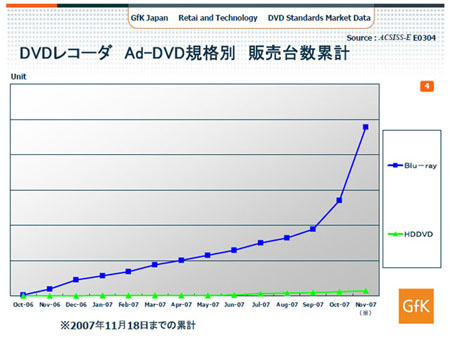 Japanese consumer HD recorder sales
During that period, the rise in demand for HD recorders has been dominated by Blu-ray, but that's no great surprise. Blu-ray recording technology has been around a lot longer than its HD DVD equivalent and has become more mature. Equally, Japan is home to far more Blu-ray backing manufacturers than it is to vendors who favour HD DVD.
Historically, HD DVD recorder sales have grown. GfK's figures charting monthly unit sales from October 2006 through to 18 November 2007 show a slow but steady rise from January 2007 onwards. Before then, sales were stuck at zero - Japanese buyers couldn't choose HD DVD recorders if they wanted them.
By contrast, the first consumer-oriented start selling in appreciable numbers in November 2006 - though pro-oriented BD recorders have been around for quite some time before then - and grow in a steady, straight line until October 2007 when sales suddenly shoot up. The increase between November 2007 and October 2007 is even steeper.
Sponsored: Minds Mastering Machines - Call for papers now open