Charlie Sheen in upside-down iPhone outrage
Thesp succumbs to 'Jesus mobe inversion syndrome'
Handsome thesp Charlie Sheen has a certain amount of explaining to do after he was caught on camera suffering from a nasty case of "Jesus mobe inversion syndrome":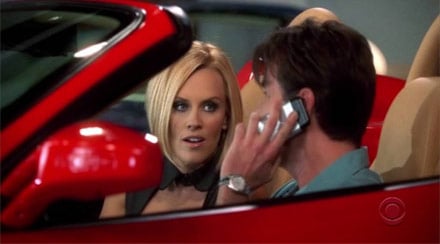 Sheen is the first major celeb to succumb to the condition - initially spotted in an episode of The Bionic Woman - the symptoms of which are a clear inability to tell the iCon's arse from its elbow, quickly followed by internet exposure, ridicule and eternal banishment from fanboyland.
This particular outrage was picked up by engadget, which pleaded: "Seriously, please don't make us start another feature series of dumbass celebs holding the iPhone upside down."
It's too late for that, chaps - the blogosphere's iPhone orientation monitoring operatives are as we speak slo-moing months of US TV for further examples of cellular abuse. Expect further shock revelations. ®
Sponsored: RAID: End of an era?