Robo-mixologist expo opens in Vienna
Doctorow to keynote at arty cyberdrunk event
Today is the opening day of Roboexotica - "the first and, inevitably, the leading festival concerned with cocktail robotics world-wide". The droid-bartender expo runs until Sunday in Vienna.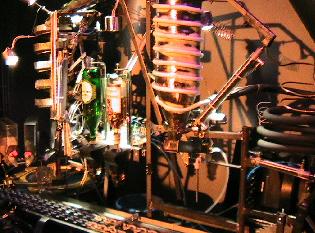 <bzzt>Drinky, drinky, make you stinky?<bzzt>
Roboexotica, sadly for cocktail lovers, is not run by thirsty engineers but by Shifz - "Syntharturalistische Kunstvereinigung" - who are more installation/performance artists than real techies. The four principal figures of Shifz are: Vali Goschl, lit-mag publisher; "AgenTina", "a professional actress but also great help in matters of taste... has brought forth various works of fine art"; Chris Veigl, "the master engineer of SHIFZ. He has crafted the brainwashingmachine*"; and Magnus Wurzer, who "is a medicinal case, alas".
They have a cheery line in pseudotech banter:
Until recently, no attempts had been made to publically discuss the role of cocktail robotics as an index for the integration of technological innovations into the human Lebenswelt, or to document the increasing occurrence of radical hedonism in man-machine communication. Roboexotica is an attempt to fill this vacuum... a micro mechanical change of paradigm in the age of borderless capital. Alan Turing would doubtless test this out.
Perhaps unsurprisingly, Cory Doctorow is to speak at this year's Roboexotica.
Apart from more or less successful drinks-mixer droids, there are also machines which will light your smoke, and at least one has been exhibited which "lights and smokes cigarettes in his quest to relief humankind of repetitive and hazardous tasks".
In previous years the show has even seen drinking robots like Bar Bot. "A true barfly, this robot first bums money to buy a beer, when this is achieved he gulps it down his transparent bladder." Bar Bot won first prize in the category "Other Achievements in the Fields of Cocktail Robotics" at Roboexotica 2003.
Lots more from Roboexotica starting here. ®
*"It's probably a familiar question: HOW do I get rid of all those dirty thoughts, HOW can I practice highly effective brainwashing at my home?
"The new SHIFZ Mind-o-matic is a milestone in the development of compact brainwashingmachines for the civilized household... immersion-optimized drum... washing programs unfold their cleansing power... relying on computerized EEG-neuro-feedback... integrated softener-dispenser... get rid of sensual pollution."
Sponsored: Minds Mastering Machines - Call for papers now open