Nokia 6110 Navigator GPS phone
Gets you from A to B without going via L, O, S or T
Imaging is not one of the 6110's strongest suits. The camera can be launched into action by slipping open the sturdy lens cover, or by clicking a dedicated camera button on the side. Despite the lens protection, this isn't one of Nokia's finer snappers, two megapixels being ground-floor standard on mid-range handsets at this end of 2007.
The camera has a flash, and can shoot in landscape mode, framing shots like a regular digital camera. However, its controls are limited, with no autofocus or macro mode meaning close-up shots can be hit or miss. The camera can nonetheless produce decent images in good lighting conditions, with some fine detailing and contrast on mid-range shots. You can adjust exposure and white balance, and edit shots in camera afterwards.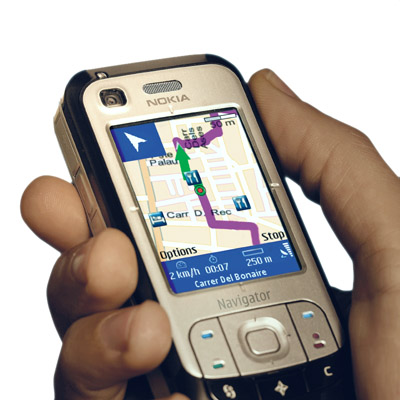 Slightly cumbersome
The 6110 can shoot video too. This is better than average for a mobile phone, but with a maximum resolution of 320 x 240 pixels it's not going to replace your camcorder just yet.
The music player is easy to operate, although there's no additional external controls like those on the N95. The interface is straightforward to use, and playback is of good quality. The speakers on the back can really crank up the volume, giving a better account of themselves than most mobile speakers, although it's still light on bass.
Supplied earphones are average, so you may prefer to use your own with a 2.5mm-to-3.5mm jack adaptor. A2DP Bluetooth support gives you the option of using wireless headphones or speakers.
The Symbian platform means you can tailor the handset's array of apps to match your requirements, using Nokia or third-party applications. Nokia supplies decent organiser functionality out of the box - there's calendar, notes, convertor and calculator features. Push email is supported too, and attachments can be viewed using Quickoffice applications and Adobe Reader software.
On top of regular voice-controlled dialling features, the Nokia 6110 sports a clever Message Reader function, accessed from a shortcut button, which will read out aloud all your text messages and emails. You can synchronise contacts and calendars with Microsoft Outlook and Lotus Notes on a PC using supplied Nokia PC Suite syncing software and supplied USB cable. Users can also drag and drop files – including DRM-free tracks from iTunes – via USB.
GPS functionality can slash battery life considerably. We found it to give us around 3-4 hours of instructions before conking out – not bad if you're aware that this is happening and aren't caught short by leaving it on in the background accidentally. In normal usage, the 6110 keeps going for around four days between charges, though functions such as the music and player also take a bite out of battery life. Nokia claims the 6110 has a maximum talktime of up to 3.5 hours and standby of 265 hours in 3G coverage. Call quality on the 6110 is top class, with no complaints about holding on to network coverage or audio performance.
Verdict
Battery life notwithstanding, Nokia's 6110 Navigator is an impressive attempt to replace TomTom-like gadgets with a mobile phone for which GPS is a key feature not a gimmicky add-on.
Sponsored: Minds Mastering Machines - Call for papers now open

Nokia 6110 Navigator GPS phone
No more 'couldn't find it' excuses for Nokia users...
Price:
Contract: from free; handset only: £335 RRP