Nokia 6110 Navigator GPS phone
Gets you from A to B without going via L, O, S or T
The 6110 isn't svelte, though. Its dimensions, at 101 x 49 x 20mm and 125g, are similar to the N95 - although the 6110 is more rounded, with a slightly cumbersome feel. The overall aesthetic isn't really a patch on the N95's angular elegance.
The 6110 has a regular slidephone arrangement, with decently large keys and a sensible, functional layout. Under the display is the handset's main five-way navigation and scroll control, flanked by the usual soft-menu keys and call/end buttons. There's the standard squiggle-marked Menu key, next to which is a larger button marked with a compass icon - this is the navigator key that runs the on-board GPS system.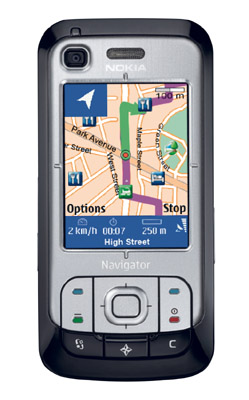 Extensive route planning options
In a few seconds you're propelled into the sat nav software. The sensitivity of the GPS receiver - mounted at the rear of the earpiece - is good: better than the N95 for locking on quickly. It can locate your position in less than 30 seconds if satellite reception is sufficient, though you may sometimes have to wait for several minutes.
Once up and running, with your location displayed, there's an extensive set of search criteria and route-planning options. With all the mapping and navigation on the card, network coverage doesn't hinder the sat nav performance, as it could with Nokia Maps.
Thousands of points of interest – covering entertainment, historical locations, businesses, railway stations, banks, petrol stations, car parks and many more – are stored and easily accessible by search. You can scan through addresses by postcode or tapping in partial details, search across all categories with an immensely useful Free text option and choose your own landmarks for future reference. And - top marks for integration - you can feed in addresses straight from your phone's contacts list. Clever and slick.
The phone performs searches and route calculations in moments, and there are options at every stage to make navigation less painful. Voice navigation instructions fairly boom out of the powerful speaker on the back of the phone, cutting sharply through any in-car din. On-screen instructions are presented on 2D or 3D maps, and it has a pedestrian mode for on-foot guidance without worrying about one-way systems.
Sponsored: Minds Mastering Machines - Call for papers now open