GPGPUs and FPGAs are now fully implanted in our brains
The server booster bonanza takes hold
We've followed Silicon Valley start-up DRC since it first appeared in early 2006.
DRC takes Xilinx FPGAs (field programmable gate arrays) and drops them right in Opteron processor sockets. This gives customers who are willing to do some coding a work a chance to get anywhere from 10x to 60x better performance out of the Opteron socket while consuming just a fraction of the power (10-25 watts).
At the moment, you can only slot DRC's RPUs (reconfigurable processor units) into older Rev E sockets. But support for the most current Opteron boards "is right around the corner," according to CEO Larry Laurich.
From a performance per watt perspective, it's hard not to appreciate DRC's attack. FPGAs have a clear edge over power-hungry GPUs and give customers a real chance to reduce the energy needs of a cluster.
Supercomputing giant Cray has bought into this pitch, offering DRC-based modules as one of its accelerator options in the new XT5 systems.
Like all of the accelerator players, DRC is working to make its software story as strong as possible. So far, it has focused on the financial, oil and gas and bio-tech markets. DRC offers these customers a development platform and also helps with custom development. In time, DRC wants to offer a broad set of commonly used routines and algorithms to customers, reducing the amount of bespoke work that needs to take place.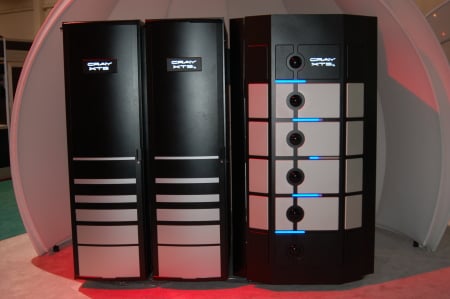 Cray's flashy new XT5
"We can give them starting places that are way beyond what they would be able to do on their own and get them going in a short period of time," Laurich said.
In addition to the GPU set, DRC competes fellow start-up XtremeData, which sells a very similar product based on Altera's FPGAs.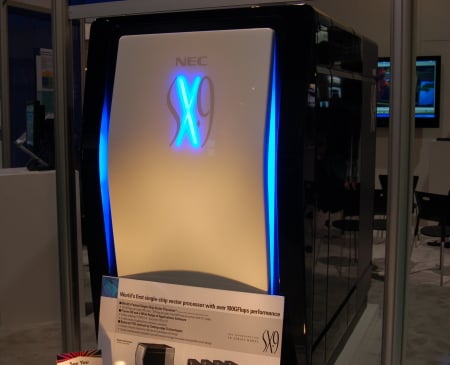 For good measure: NEC's new vector machine
DRC has long claimed the intellectual property rights behind the technology needed to run RPUs in Opteron sockets, but Laurich said there are no current plans to flog a lawsuit at XtremeData.
"We haven't run into any situation where we were competing with them and lost business," he said. "The market looks big enough for both of us, and we're both going as fast as we can."
DRC expects to be ready with a similar product once Intel ships its next-generation processors in 2008 that include integrated memory controllers and a high-speed interconnect - like today's Opterons.
Okay, okay. That's enough of the start-ups and fledgling efforts. Let's check out where the big boys stand with all this technology.
Sponsored: Minds Mastering Machines - Call for papers now open