Samsung SGH-F210 mobile phone
Just too small
When open, the handset is controlled by a combination of the keyboard and the big silver scroll wheel, the outer ring of which actually revolves and which does the work of a joystick. Despite its rather odd dimensions, the F210 is surprisingly easy to operate and we quickly got used to using the scroll wheel despite it being sited quite a way above the keypad. When browsing through picture galleries, the scroll wheel really comes into its own as a navigation device.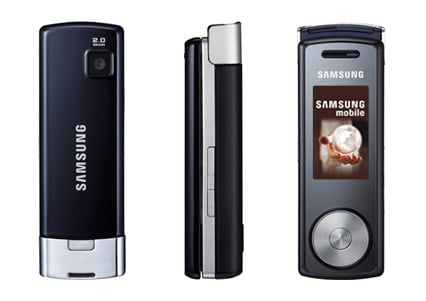 Compact
When closed and in music player mode, control comes via the scroll wheel alone, with the exception of volume, which is regulated by two buttons on the 'top' of the unit. Once you get the hang of the wheel's various functions, navigation around the music library is a cakewalk. A selection of tracks from Moby, Seth Lakeman and Richard Wagner proved the player to be more than up to the job from a purely acoustic perspective. Supported media formats are the usual suspects: MPEG 4 video along with MP3, WMA and all the breeds of AAC.
A trick feature is the handset's clip-on/off end cap. Leave the basic one on and you can use the supplied adaptor cable to plug any pair of 3.5mm-jack headphones into the F210's multi-function port. Alternately, use the combined lanyard/headphones adaptor and you can hang the unit securely around your neck while using the rather fine supplied headphones. Both cables have a built in microphone for hands-free use and an answer switch that stops the music when you take calls and then resumes when you hang up.
Strangely, the mic/switch on the lanyard is high up on the right-hand earphone cable where it is completely out of sight. This can make answering a call look like some sort of strange Masonic ear-tug greeting.
For storage, the F210 comes with 1GB of on-board memory and a Micro SD slot good for another 2GB, though our retail package didn't come with a memory card of any size. The phone measures 88/153 x 31 x 20.5mm and weighs in at 72g. It has nice smooth edges, seems very well bolted together and robust, and comes in black or pink.
The supplied Samsung PC Studio 3.2 software package is very comprehensive but leaves a bit to be desired in the speed stakes: when it came to shunting music about, a 5.2MB file took 36.2s to transfer to the phone via USB.
Sponsored: Minds Mastering Machines - Call for papers now open