Ariane 5 is go: Skynet 5B military chat-sat on the way
Launch 'reflects Arianespace strategic role'
The British military communications satellite Skynet 5B launched successfully from Kourou in French Guiana at 2206 GMT last night. The spacecraft will complete the UK armed forces' planned new generation of orbital communications coverage.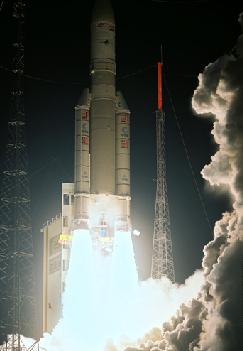 Arianespace's strategic role.
Skynet 5B was supposed to launch on Friday, but technical hitches affecting the Ariane V ECA heavy-lift rocket delayed the lift-off until Wednesday evening. Problems overcome, the booster successfully sent both the Skynet spacecraft and a Brazilian telecomms platform on their journey to geostationary orbit.
Arianespace said that the launch had set a new record for Ariane V, with 8,700kg of payload delivered.
"The launch of Skynet 5B clearly reflects Arianespace's strategic role in guaranteeing independent access to space for European governments," according to the launch company.
"Skynet 5A is the European launcher's 28th military payload. Arianespace has already orbited Skynet 4B, 4C, 4E, 4F and 5A for the British MoD and NATO. Arianespace's backlog of orders includes one more MoD satellite, Skynet 5C."
Skynet 5C will not increase the coverage area of the Skynet 5 constellation, but rather will act as an on-orbit backup.
Skynet 5 is unusual among military satcomms projects in that it is privately owned. Its operators, Paradigm, expect to recoup the billions they have invested from UK Treasury "conflict resolution" funds. (The regular defence budget would not have stretched to cover the price of Skynet 5, but supplemental money provided for fighting wars is likely to be provided for the foreseeable future.)
The 5B satellite will take about 20 days to settle into its new geostationary orbit at 53 degrees East of Greenwich. Its operational life, like the other Skynet 5 satellites, is expected to exceed 15 years. ®
Sponsored: Are DLP and DTP still an issue?