Not too different from other interfaces out there, you might think, but the way the buttons are laid out with those pesky Back and Forward options placed high and low on the player, it's actually quite annoying to use.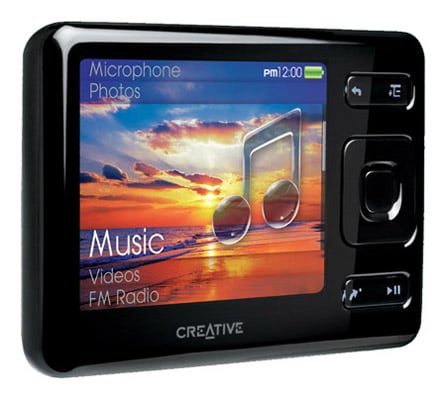 Gorgeous screen, irritating user interface
Unless you opt to purchase the extra AC adaptor, you charge the Zen by connecting it to your computer. Creative claims a single charge gives five hours' video playback and 25 hours' audio, which matches the Nano. This obviously depends on usage, how you have the backlight set up and what files you're playing, with sound-enhancement options sucking power, and AAC and WMA files shortening the time too. We got 17 hours out of the Zen on a full charge, which included lots of fiddling around with the menus, some video and the rest purely music, which we felt was respectable.
File support is another area the Zen shines in. JPEG, BMP, GIF, and PNG pics can be viewed directly, with TIFFs being converted by Creative's software. As well as your MP3, WAV and WMA files you can also use the player for non-protected AAC files, which will appeal to anyone using iTunes Plus. Video support is also generous with WMV9, MPEG 4 SP, Motion JPEG, DivX 4 and 5, and XviD playable as long as they are resized to 320 x 240 resolution - again Creative software comes to your aid here.
The Zen is available in 4GB, 8GB and 16GB options. With each model you get Creative's earphones, which are rubbish. So you might want to invest in something half decent. You also get a short USB-to-mini-USB cable, a Quick Start guide and the installation CD that includes the Creative Media Explorer software.
Verdict
Comparisons with Apple's iPod Nano are inevitable - the Zen is a direct rival to the lesser 'pod. The Creative player has a larger screen - by half an inch - comes in a larger capacity and then there's that SD card slot. It has more features too.
So, what should you opt for? It's a tough call. We really liked the Zen. If you're determined not to go down the Apple route, you'll find the Zen a worthy rather than wannabe competitor. But, we still feel that Creative isn't quite there with this undeniably capable option. It's close, but it's no iPod killer.

Creative Zen media player
Creative's media-playing Zen is a worthy iPod Nano alternative, but it's not without its faults...
COMMENTS
@Graham Lockley
Love it! Thanks for the heads up. I will def be getting one of those T-shirts!
Creative Zen? *shudders*
I have a Zen V, and I thought I'd have a shufty at this review to see what the opinion was.
I take it that the sound processing unit is entirely different to that on the Zen V, which is, frankly, atrocious. Using Shure E2Cs [reasonable headphones] I get lots of low end distortion on Nine Inch Nails tracks with lots of lovely bass. Except with the Zen I just get it crapping out and buzzing. Regardless of the settings for the bass in the equaliser, and the bass boost setting itself.
It's not the headphones, as the problem doesn't exist with my iRiver H320 [the Zen was a workaround till I get a new battery/less watt-hungry HD for the H320], my laptop [ubuntu], nor my desktop [XP] regardless of how I set the bass.
Oh, and the oLED screen started getting dead pixels within weeks.
And another thing - why can't I just create the folder structure that I want, rather than relying on ID3 tags? I have rakes of files mixed up by mates and pupils at the school I work with that either have incomplete tags or none at all, and my Zen just won't see them. With the H320, you just drill down to the folder, Explorer style.
And *another* thing, unrelated to the Zen but hell, I'm on a roll, why the hell do you want 'touch' controls on something you will have in your pocket 90% of the time? I don't want to take it out of my pocket every time I want to skip a track.
I'm sure the Zen is a good little player, but the touch controls and [I expect] the same transfer system as my Zen V means I won't be getting one any time soon.
*goes off to get ibuprofen for rant induced headache, and to hunt ebay for H320 batteries and HDs*
Sound quality and volume?
So compared to the Ipod nano, assuming I am playing a high bitrate mp3 which actually sounds better?
And what about the volume ?
My Ipod nano (fatty) does of course come with the EU crippled sound volume, which basically means even with inear phones (Sennheiser CX300) listening to quieter classical music on the street is nigh on impossible.
I have even resorted to using a boosteroo amplifier, which of course is another device to carry around with me.. more leads etc..
Has anyone directly compared the volume between the cripplied ipods and the Zen?
1 of several MP3 players with a DAB tuner
http://www.breezily.co.uk/products/iriver_b20_2gb_dab_radio_mp3_player
DAB
Unless the gvt have changed their minds again (???) analogue radio will not be switched off for the moment - there just hasn't been sufficient take-up of DAB, as the radios are too expensive and too power-hungry.