Creative Zen media player
Spiritual enlightenment by way of sound
Review Creative's latest MP3 player offers a 2.5in screen, video playback capabilities, photo viewer, voice recorder and an FM radio. It claims to provide 25 hours of battery life and is the size of a credit card. Sounds good on paper, but does it all come together in practice?
Despite beating Apple to market with the Nomad MP3 player and being eventually credited with the mother of music player user-interface patents, Creative has always been stuck in Apple's shadow. Its offerings to date have been well-received, but it has never come up with that 'breakthrough' device to give it true mass-market success.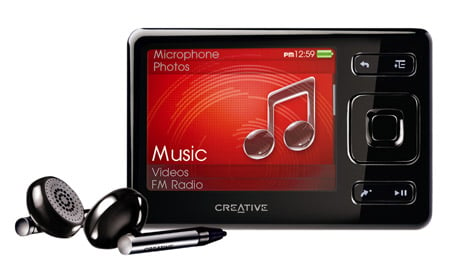 Creative's Zen: enlightenment for the iPod generation?
The Singapore-based company is hoping that its latest offering, the almost spiritual-sounding Zen, will make a difference. Launched as the flagship model of Creative's Flash-based line-up, it offers all the basic functionality that the iPod Nano - reviewed here does and - those looking for an Apple alternative will be happy to note - a little more.
The Zen is a small, black rectangle with a 2.5in landscape-oriented screen that can display 16.7m colours. The front of the device is glossy and is mostly the screen, while the back is a matt-black metal with a pleasing logo dimple.
The controls are found to the right of the screen. From the top down, there's a Back navigation button and a contextual-menu key. Next comes the square five-way controller for volume adjustment and track-skipping, then a Forward menu button and Play/Pause. The right-hand side of the player is home to the power button that doubles as the lock key. Below it sits a mini USB port and the headphone jack while. There's an SD card slot and a mic on top of the player.
The controls are well placed, but you do wonder why there are separate Back and Forward buttons when this functionality surely could have been incorporated into the D-pad. When getting to grips with the device, we did find ourselves naturally going for the D-pad only to remember that there were separate buttons.
COMMENTS
@Graham Lockley
Love it! Thanks for the heads up. I will def be getting one of those T-shirts!
Creative Zen? *shudders*
I have a Zen V, and I thought I'd have a shufty at this review to see what the opinion was.
I take it that the sound processing unit is entirely different to that on the Zen V, which is, frankly, atrocious. Using Shure E2Cs [reasonable headphones] I get lots of low end distortion on Nine Inch Nails tracks with lots of lovely bass. Except with the Zen I just get it crapping out and buzzing. Regardless of the settings for the bass in the equaliser, and the bass boost setting itself.
It's not the headphones, as the problem doesn't exist with my iRiver H320 [the Zen was a workaround till I get a new battery/less watt-hungry HD for the H320], my laptop [ubuntu], nor my desktop [XP] regardless of how I set the bass.
Oh, and the oLED screen started getting dead pixels within weeks.
And another thing - why can't I just create the folder structure that I want, rather than relying on ID3 tags? I have rakes of files mixed up by mates and pupils at the school I work with that either have incomplete tags or none at all, and my Zen just won't see them. With the H320, you just drill down to the folder, Explorer style.
And *another* thing, unrelated to the Zen but hell, I'm on a roll, why the hell do you want 'touch' controls on something you will have in your pocket 90% of the time? I don't want to take it out of my pocket every time I want to skip a track.
I'm sure the Zen is a good little player, but the touch controls and [I expect] the same transfer system as my Zen V means I won't be getting one any time soon.
*goes off to get ibuprofen for rant induced headache, and to hunt ebay for H320 batteries and HDs*
Sound quality and volume?
So compared to the Ipod nano, assuming I am playing a high bitrate mp3 which actually sounds better?
And what about the volume ?
My Ipod nano (fatty) does of course come with the EU crippled sound volume, which basically means even with inear phones (Sennheiser CX300) listening to quieter classical music on the street is nigh on impossible.
I have even resorted to using a boosteroo amplifier, which of course is another device to carry around with me.. more leads etc..
Has anyone directly compared the volume between the cripplied ipods and the Zen?
1 of several MP3 players with a DAB tuner
http://www.breezily.co.uk/products/iriver_b20_2gb_dab_radio_mp3_player
DAB
Unless the gvt have changed their minds again (???) analogue radio will not be switched off for the moment - there just hasn't been sufficient take-up of DAB, as the radios are too expensive and too power-hungry.