Solwise pushes powerline Ethernet security - literally
Instant network encryption
Networking specialist Solwise has introduced a powerline Ethernet adaptor it claims offer compete security literally at the push of a button.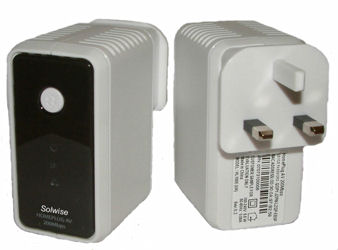 Solwise's PL-200AV-Push: 128-bit AES encryption at the push of a button
The PL-200AV-Push is based on the 200Mb/s HomePlug AV networking-over-mains-cabling standard and like other powerline products plugs straight into a UK three-pin power socket.
Plug in a set, push the button on the front of any one of them and the adaptor will generate an encryption key to 128-bit AES standard and share it among all the other PL-200AV-Push adaptors on the network.
Want to add another device at a later date? Plug it in and push the button again.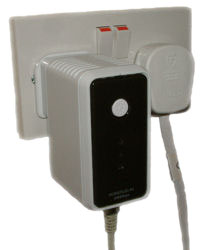 Shouldn't impede access to other sockets
Solwise said it was pitching the product at consumers running Linux boxes and Macs for whom there's no password set-up utility - Solwise's software is Windows only. It also claimed the adaptors would be handy for people setting up a network on shared mains wiring and who want to avoid other folk snooping on their data.
The PL-200AV-Push's security system isn't compatible with Solwise's older, PL-200AV powerline adaptors - reviewed here - unless those products have been user-updated to version 2 firmware. The download to do so is available from Solwise's website.
Available singly, each PL-200AV-Push will cost £50 when they go on sale on 28 November.
Sponsored: Minds Mastering Machines - Call for papers now open