Nintendo creates online catwalk for Wii Miis
Brickbats or bouquets
Nintendo has launched a Wii channel for fanboys - and girls - that lets them post their Mii avatars online and have other users praise or pillory them.
For anyone not in the know, a Mii is a Wii-centric cartoon representation of yourself. Your Mii can be personalised by changing, say, eyebrow shape or hair colour and is then used to represent yourself in games.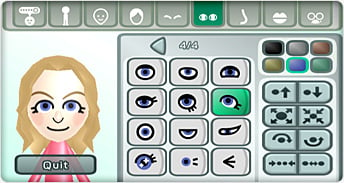 Create your Mii on your Wii
However, Nintendo now wants users to log onto the channel, post their avatar and let everyone have either a virtual slagging match or virtual chat-up session. For example, "your avatar's c**p" or "your avatar's cute".
A contest section has also been created that challenges gamers to create Mii avatars of famous people.
Cunningly dubbed Check Mii Out, the channel is available for free from the WiiWare section of the Wii Shop Channel.
Sponsored: Minds Mastering Machines - Call for papers now open