Intel celebrates 'Penryn' launch
Manufacturing exec warns rivals forgoing new materials
Intel celebrated the launch of its 45nm 'Penryn' processors last evening, whooping-up their chip shrinkage at the Ritz-Carlton Hotel in San Francisco.
The new processors are made with new materials and almost twice as many transistors by shrinking their size to 45nm from 65nm. Intel claims the technology will dramatically increase computing performance and reduce power consumption. You can read about the chips themselves here — the champaign and hors d'oeuvres are this way:
Chipzilla was of course hot on the green angle, bespeckling the area with sunflowers — a plant that apparently can pull lead from soil. It serves as a convenient spokes-asteraceae to herald Intel's new chips being completely lead and halogen free in both design and packaging.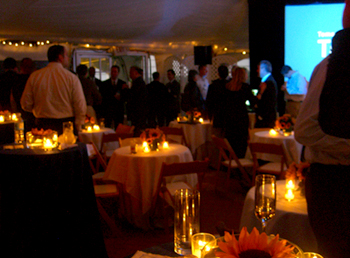 Free food? Say no more.
Meanwhile, Penryn's horsepower was also on display. PC booths showcased some of the latest first-person shooters powered (in part at least) by the chips. Intel CEO Paul Otellini was particularly impressed by the calculations involved in shooting down North Korean militants and Alien invaders in the recently-launched EA game, Crysis, and made a gameplay demo a part of his presentation.
Intel high-end gaming rig Penryn update for its Core 2 microprocessor family will be the Core 2 Extreme QX9650. Register Hardware has that covered.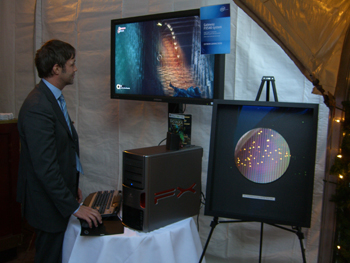 WASD controls completely ellude most journalists
Price was Otellini's second point. Well, sort of:
"For the first time, you can buy a billion transistor chip for less than the price of a barrel of oil," said Otellini.
And of course there's always time for another round of Intel's self-congratulatory Moore's Law video.
Intel manufacturing head claims competitors to release 'less performance-minded technology'
While making the jump from 65nm down to 45nm, Intel redesigned the transistor — swapping polysilicon for a metal gate and using hafnium oxide as an insulator.
At last night's event, William Holt, Intel's senior veep of technology and manufacturing, claimed that competitors rushing into the 45nm game without using the newer materials would suffer in product performance.
Holt said that using 45nm technology combined with hafnium-based High-k and Metal Gate transistors provides a 20 per cent increase in transistor performance and 30 per cent reduction in power consumption.
He claimed that most others in the semiconductor industry will probably not move to High-K/Metal Gate devices in their initial 45nm technologies — although they have plans to do so shortly thereafter.
"What they will see is lower performance out of the transistor — that without scaling the gate oxide, you can't achieve the same levels of performance," said Holt. "For those who do not move, they will have less performance-minded technology." ®
Sponsored: Minds Mastering Machines - Call for papers now open