Christmas Doctor Who exhibition at UK Space Centre
Inner children jump up and down
Diary marker The Tardis is set to land at the National Space Centre in Leicester next week for a Doctor Who exhibition that will run from November 13 to January 6.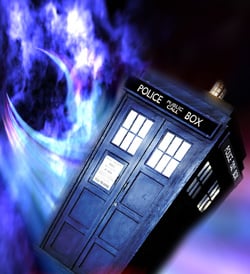 Visitors to the exhibition will be able to see characters and props from the series, including the truly terrifying Screaming Angels ("whatever you do, don't close your eyes..."). The Daleks will also be making an appearance (interactively, dontcha know) as will the psychotic Cybermen.
Once you've made your way past all these villains, you will have to confront The Master.
There will also be exhibits from the Christmas Special, the organisers say, once the programme has aired and we are safely into 2008.
No word on celebrity appearances, so whatever your feelings about Catherine Tate (leave it...) you'll probably find something to enjoy. ®
Sponsored: RAID: End of an era?