Mac OS X Leopard - Time Machine
Part 2 - the World's best back-up tool?
Review I was planning to leave my appraisal of Mac OS X 10.5 Leopard's Time Machine feature until the end, but necessity has just forced me to look at it in depth straight away. Put simply, if it wasn't for Time Machine, you wouldn't be reading this article.
Earlier today, I experienced one of about three kernel panics I've encountered since I installed the first Mac OS X Public Beta release back in the later 1990s. I've owned three Macs in that period, and that's the number of kernel panics I've had. But today's did for my MacBook Pro.
I can only assume the need to forcibly shut the machine down screwed some important data on the hard drive, but after doing so, the Mac wasn't happy. After restarting, Spotlight immediately stopped responding, hogged the CPU and prevented even Finder doing what it should. Forced shutdown - hold the power key for at least five seconds - followed forced shutdown as I tried to get each fresh start-up to proceed as smoothly as it should.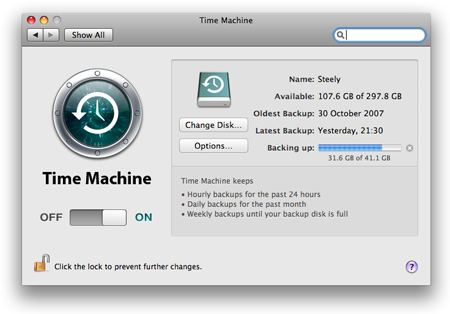 Leopard's Time Machine: just turn it and you're done
Eventually I gave in - time for to restore the system software. In the past, I'd have reformatted the hard drive, reinstalled the OS and then started to add back apps and preferences bit by bit. With Leopard, that's no longer necessary.
Fearing the worst, I ran Apple's Hardware Test, which told me my machine was fine. Booting up from the Leopard DVD showed me my hard drive was OK. I wasn't entirely convinced, but I proceeded anyway. Leopard's Installer app has a new menu option: Restore from Time Machine Backup. It was new to me, so I selected it...
But I'm getting ahead of myself. When you first connect an external hard drive to a Leopard Mac, Time Machine - that clock-like icon in the Dock - asks you if you want to use it for back-ups. So, having installed Leopard and connected my Journaled HFS+-formatted LaCie Porsche drive, I said yes. Time Machine immediately copies your entire hard drive over to the external storage. It does so in the background, with no apparent impediment to performance.
Once it's done, from then on every hour it copies over and changes you've made to the files on your Mac in a series of date- and time-stamped folders within a Backups.backupdb folder on the external drive. The original data's stored in a hidden folder.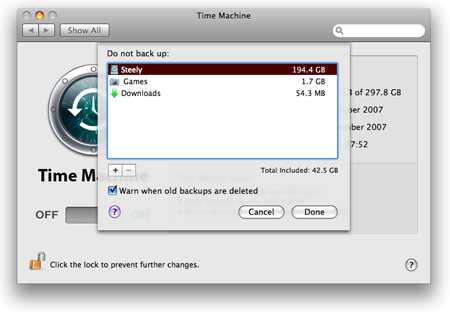 Exclude folders from the back-up
The point is, it's all there - minus any folders you tell Time Machine to ignore via its preferences pane.
Skip forward to this afternoon, and I'm wondering if this system actually works as promised. Having selected Restore from Time Machine Backup, the Leopard installer asks you to choose your back-up disc then the drive partition to restore it all to, checking along the way that there's room for the incoming files. Ready to proceed, I clicked Restore and waited.
Sponsored: Minds Mastering Machines - Call for papers now open