MIT sues architect for crap computing-dept campus
Boffins sick of krazy-klown Picasso themepark
Frank Gehry, a member of the artistic school perhaps best described as Architects Renowned for their Startling Edifices, is being sued by MIT. A $300m building he designed for the famous technical university is allegedly faulty.
Gehry, feted among his fellow picture'n'model-mongers worldwide for eyecatching building designs such as the Guggenheim museum in Barcelona Bilbao, was the man responsible for the excitingly mad-looking Stata Centre at MIT. The complex houses the departments of computing, artificial intelligence, and linguistics.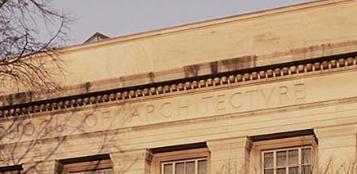 Where architects live (MIT).
Interestingly, the MIT architecture department* - which has plenty of loonies of its own - is housed in a boring building with dull old vertical walls dating from 1916.
It seems that yet again it has proved difficult to turn a nifty cardboard model and 3D portfolio into a functioning building. MIT says the Stata Centre is incurably leaky and badly drained. The boffinry academics contend that Gehry's design led to serious cracking almost as soon as the building was completed three years ago. They also say that ice and snow fall off it periodically, causing damage and blocking exits; and that it sprouts mould due to being so wet.
Gehry already has form in this arena (in the police sense of "form" rather than the architectural). A building he designed for the University of California in 1986 had to be demolished because it leaked so much.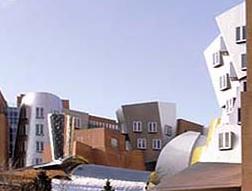 What architects design for the computing
department (MIT).
MIT's suit says it paid Gehry Partners $15m for the design, and seeks unspecified damages.
"Gehry breached its duties by providing deficient design services and drawings," runs the filing, as reported by AP.
Skanska, the construction firm which built the Stata Centre, is also named by MIT. However it says the problems are not its fault.
"This is not a construction issue, never has been," according to Paul Hewins, Skanska veep. He said Gehry had ignored warnings from his firm and consulting engineers regarding the Stata designs.
Mr Gehry won the Pritzker Prize in 1989, described as the "Nobel of architecture". The citation said "His ... always arresting body of work, has been variously described ... his buildings [are] a unique expression of contemporary society ..."
Which would seem to be a pretty damning indictment of contemporary society. ®
*Sample quote from the department head: "Materiality is of paramount importance since I see that the foundations of architecture, as a body of knowledge, are anchored in and generated from its physicality and tangibility."
Sponsored: Minds Mastering Machines - Call for papers now open