Microsoft spoils Christmas with Xbox 360 locking feature
Another excuse for the kids to hire a hitman
An upcoming Xbox 360 dashboard update in early December will add a "Family Timer" feature that lets parents set a limit on gaming time.
Merry Christmas, Billy! You have exactly two hours to enjoy your present.
Similar to the Windows Vista counterpart, the timer can restrict gaming on a per-day or per-week basis. When the alloted time runs out, the console will automatically turn off. Notifications will appear to warn the child when the end of the game session is nigh.
It should at least make gunning for the next save point more interesting.
The addition will help parents set boundaries for children, without the fuss of enforcing the rules themselves. There's no finer weaning than at the cold, uncompromising teat of mother technology. Then again, perhaps it's safer to keep your distance when pulling the plug.
The new feature will highlight Microsoft's second year of its "Safety is no game. Is your family set?" (yes, that's really the name) initiative with the Parent Teacher Association.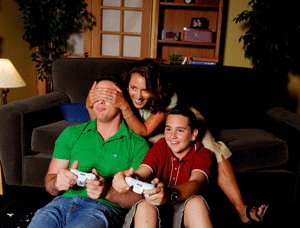 Oh well, who's up for a rousing game of hoop 'n' stick?
"As a leader in interactive entertainment, it's Microsoft's responsibility to provide parents with tools they can use to manage their children's video gaming and online experiences, and we have made that a priority from the very start," said Robbie Bach, head of Microsoft's entertainment division, in a statement.
American football star Jerry Rice was also a part of the announcement...for some reason. He quite touchingly stated that being a father was a greater accomplishment than both winning the Super Bowl and being a finalist on the reality show 'Dancing with the Stars.'
Even better than coming in third place on a reality show, Jerry? If teardrops ruin this keyboard, we're sending the bill to you.
This just in: Children often don't like rules restricting playtime
As a part of the announcement, Microsoft released the results of an independent research poll they sponsored on children's use of digital media.
The poll looked at 800 parents with children between the ages of five and 17 who have a video game console in their home. It showed that 45 per cent of parents say that enforcing rules about their children's media consumption creates tension at home. About 99 per cent have some rules, but only 47 per cent have "comprehensive" rules concerning access, content and time. The research also revealed that only 16 per cent of families are anal enough to put media-use rules in writing, and 40 per cent of parents involve children in related discussions. ®
Sponsored: Minds Mastering Machines - Call for papers now open