Microsoft hawks Home Server
Buy now. Get it sometime soon.
Microsoft wants you to know that you can now purchase a home server loaded with its very own Windows Home Server operating system.
Today, several big-name web retailers unveiled a machine from Hewlett-Packard, which helped develop the new OS, and a second is on sale straight from pint-sized hardware manufacturer Velocity Micro. If you order now, you can get your hot little hands on one in late November or early December.
First announced by Bill Gates at the International Consumer Electronics Show last January, Windows Home Server is designed for families obsessed with digital media. Redmond bills the OS as an easy way to backup media files and share them with machines spread throughout the home, including PCs as well as gaming consoles and set-top boxes.
"Digital devices and content are everywhere in our day-to-day lives and they are more important all the time," reads a new canned statement from Gates. "With the launch of Windows Home Server, Microsoft and its partners are creating a new consumer product category that will help people keep their digital media safe and make it easier for them to enjoy it with friends and family."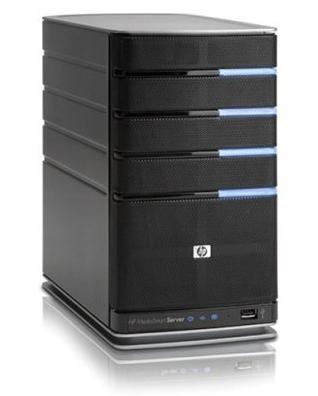 The HP MediaSmart Server
How much easier? Well, it depends on what devices you're connecting to. If you're connecting to Windows Vista or XP PCs, Microsoft offers a client-side app that will automatically configure them for use with Home Server. In theory.
Once these machines are configured, Home Server will back them on a daily basis and give them ready access to its central data store. In theory.
Of course, if you're using client PCs that don't run Vista or XP, you'll have to set everything up manually.
Meanwhile, you can also stream data from Home Server onto devices that support Microsoft's Windows Media Connect protocol. "With your standard Xbox dashboard," senior product manager Joel Sider told us, "you can just find Home Server, pull photos, videos, and music onto your Xbox, and put it up on your TV screen." In theory.
The flagship Home Server system - the HP MediaSmart Server - is now on-sale at Amazon.com, Best Buy.com, Buy.com, Circuit City.com and CompUSA.com. There's a $599 model that offers 500GB of storage, and a $749 model that offers a full terabyte. Both include an 1.8 GHz AMD Sempron processor, 512MB of memory, and Gigabit Ethernet.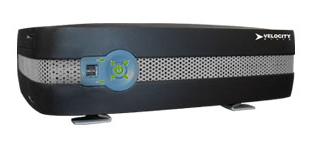 Velocity Micro NetMagix HomeServer
Naturally, Microsoft has focused attention on the MediaSmart, but Velocity Micro is offering a slightly different option. The NetMagix HomeServer is more compact machine that looks a little less like a server and little more like a consumer electronics device. It's priced at $899, offering a 1.6GHz Intel Pentium Dual Core processor, 1024MB of memory, and 500GB of storage. Whereas the HP will actually ship "later in November," the Velocity won't leave the building until December 8.
Microsoft also wants you to know that more Home Server products are on the way from several other vendors. Fujitsu Siemens and Iomega will soon introduce their own Home Server machines, and countless software vendors are developing apps for use with the new OS. ®