Firm claims fake spy rock plane drop prize
Smart minichutes also do 'passports, money, satphones'
A ten-person Arizona based start-up has claimed victory in the annual US Army precision airdrop competition, claiming to have hurled disguised spy sensors from a plane flying at 10,000 feet. The "five pound fake rocks" landed "within ten, seven and three metres" of their intended touchdown points more than two miles away.
The Precision Airdrop Technology Conference and Demonstration (PATCAD) takes place each year at a "secure, remote facility" - the Yuma Proving Ground in the Arizona desert. The just-completed PATCAD-2007 event saw participation by 25 different aerial drop systems from eight nations, including the US, UK, New Zealand, Germany, Canada and the Netherlands.
PATCAD is a competition mostly for aerial resupply systems rather than smart bombs, but nowadays even supply parachutes are expected to steer themselves down to an accurate landing. Some of the drop systems on show were massive, including the 15-ton MegaFly parachute.
However, a few people were interested in delivering smaller items - and not necessarily to friendly troops on the ground.
In a release today, niche biz Stara Technologies Inc trumpeted its achievements at PATCAD.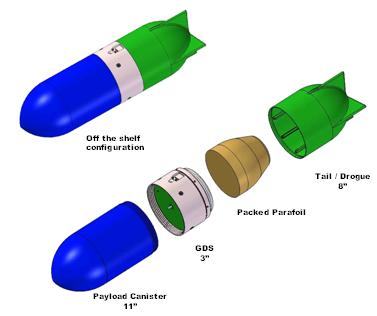 Drops passports, money, sat phones... who's this for?
"In the Business of Military Air Drop, David Still Beats Goliath," say the Stara people. "Unofficially STARA has secured first, second and third closest distances during PATCAD and more than likely has the record for closest landing for every PATCAD event..."
Modestly, the diminutive firm adds that this is "an amazing feat for a ten person company that receives zero funding from the US Army Air Drop Office". (One does note, however, that STARA did get a contract from a different part of the Army in 2003. And the Navy.)
STARA's main technology is small, custom-built autonomous guided parachutes which can be dropped from a wide variety of military aircraft to deliver smallish payloads with great accuracy. Their packages can be released from existing flare or chaff dispensers, dropped from drone aircraft, or simply "hand tossed" from the ramp of a C-130 transport to fly themselves down using a mixture of satnav and inertial guidance.
Apart from unattended satcomms-linked spy sensors disguised as fake rocks, they have a "generic payload" job 22 inches long which can carry "money, passports, cellphone/comms equipment or blood packets" down to people on the ground. Like a human jumper, the teeny robot paratroopers can delay opening their chutes until the last moment for maximum stealthiness or pop at once for best range over the ground. The kit can even execute a "flare" manoeuvre for a soft touchdown.
It seems that the plucky mini-robochute firm has now been awarded a new airdrop contract by the US Army Small Business Innovation and Research office. Hopefully they'll stay in business long enough to develop their even more gee-whiz options, which include a smart mini-gyrocopter and even a lifting-body delta wing job. It's hard to say just how useful all this might be, but it's a lot more fun than bloody great bombs, missiles etc. and almost certainly costs a lot less. Although we humbly submit that the Army may not be the ideal customers for STARA. Have they tried other parts of the government? I mean, who normally needs to drop passports, money and satphones to people in secret?
There's a company Powerpoint file with pics here. ®
Sponsored: Minds Mastering Machines - Call for papers now open