Biostar unwraps AMD 770 chipset mobo
First MSI, then Asus, now Biostar has become the latest mobo maker to pre-announce one of AMD's upcoming RD790-based chipsets by stating it'll be used on a new motherboard.
Today, Biostar emailed us about the TA770 A2+, based on AMD's as-yet-unannounced 770 chipset. The 770 connects to the processor across a 5200 million transfers per second (MT/s) HyperTransport 3 link by way of a Socket AM2+ interconnect - though the board also supports Socket AM2 CPUs.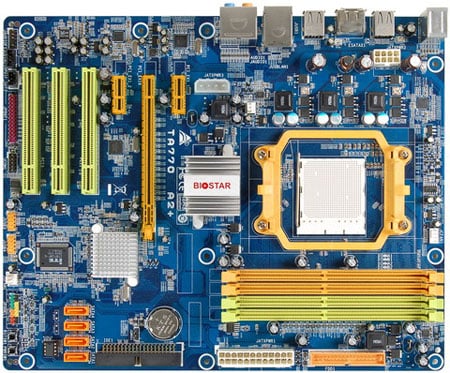 Biostar's TA770: based on AMD's 770 chipset
The board has four DDR 2 slots for up to 8GB of 800MHz memory, but plug in a Phenom processor when they become available and you can add 1066MHz DDR 2 too.
The 770 supports a single, x16 PCI Express 2.0 graphics card slot and a x1 PCIe 2.0 slot for other add-ins. It also connects, again over HyperTransport, to the SB600 southbridge I/O chip that, together with a Marvell Ethernet controller and a Realtek sound chip, provides Gigabit Ethernet, four 3Gb/s SATA ports, eight-channel HD audio and ten USB 2.0 ports.
Biostar's board also sports two eSATA connectors and three PCI slots for old-style add-in cards.
Biostar didn't say how much the TA770 A2+ will cost or exactly when it will go on sale.
COMMENTS
8 pin not 6 nor 4 PLUS standard 4 rectangle
Actually I missed the blow up of the mother board
I'll correct myself ;-D and admit I messed up
It is an 8 pin motherboard extra power PLUs 24 pin Motherboard power PLUS 4 pin HD Rectangle power
Requires special 6 pin power instead of 4 pin
Note the 6 pin instead of a 4 pin square
also the 4 rectangular power
and 24 pin power
a NEW Good power supply is required
guess the REG didn;t get all the info
yet again ;-D
Finally a card without SLI
I was in need for an uncluttered mainboard without those Crossfires, SLIs and their plothera of PCI16x lanes. Yes, I'm a power user who wants computing power not a game machine.