Samsung samples SATA II 2.5in SSD
Solid-state storage for laptops
Samsung has begun sampling a 2.5in notebook-oriented 64GB solid-state drive the connects to a host computer using a 3Gb/s SATA interface, the electronics giant said today.
Comparing the product with an equivalent, 80GB 2.5in HDD, Samsung highlighted the SSD's superiority in weight, performance, power consumption, shock resistance and noise.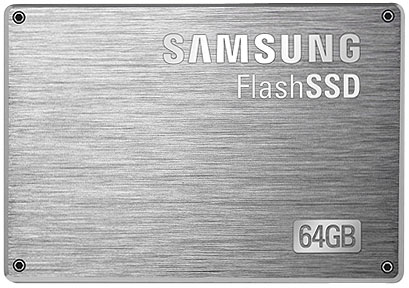 Samsung's 64GB 2.5in SATA II SSD
The SSD weighs 73g, the HDD 365g. Its sequential read and write speeds max out at 100MB/s and 80MB/s, respectively, to the HDD's 59MB/s and 60MB/s. It can stand up to 20G of vibration - the HDD can withstand only 0.5G, Samsung said. The SSD consumes 1W, while the HDD requires 3.9W. And the SSD emits no noise - the HDD is rated at 0.3dB.
Of course, Samsung ignored the obvious counter: that the 64GB SSD is considerably more expensive than the 80GB HDD and probably a lot more than the 200GB HDDs that are becoming increasingly commonplace in laptops.
Samsung introduced 64GB 1.8in 1.5Gbps SATA SSDs back in March, before putting them into mass production in June.
Sponsored: Minds Mastering Machines - Call for papers now open