Asus spills AMD 7-series chipset beans
Socket AM2+ mobos launched
Asus has jumped the gun on AMD's 7-series chipset announcement by unveiling today a pair of motherboards based on two of the as-yet-unannounced product family.
This morning, Asus posted details of its M3A32-MVP Deluxe and M3A mobos on its website. The first board, which will also be made available in a version with Asus' integrated Wi-Fi access point technology, will be based on the 790FX chipset.
According to Asus, that means it will be able to deliver support for 1066MHz DDR 2 memory - with a Socket AM2+ Phenom processor, that is - and four PCI Express 2.0 x8 slots. The chipset is based around a HyperTransport 3 bus capable of 5200 million transfers per second (MT/s).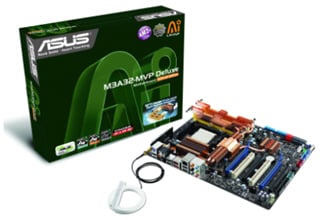 Asus' M3A32-MVP: based on AMD's unannounced 790FX chipset
Overclockers will find the board's heatpipe rig for memory modules, Asus claimed. They'll also appreciate the mobo's Precision Tweaker 2 overclocking software, which can "provide 0.02V per step adjustments to the northbridge voltage, southbridge voltage, and the DRAM voltage".
The 790FX chip connects to AMD's standard SB600 I/O part, which contributes to the six 3Gb/s SATA ports and one eSATA connector the M3A32-MVP Deluxe offers. The board also provides eight-channel HD audio and Gigabit Ethernet.
The second board, the M3A, uses AMD's 770 chip and, again, the SB600. This board can also handle 1066MHz DDR 2 memory if a Socket AM2+ CPU is used - 533MHz or 800MHz otherwise - but only provides a single x16 PCIe 2.0 slot. It can also host four 3Gb/s SATA devices.
Asus' announcement confirms details of the 790FX - codenamed 'RD790' - that motherboard maker MSI let slip last month when it prematurely unveiled the K9A2 Platinum mobo.
The RD790, which won PCI SIG approval back in April, is expected to form part of AMD's upcoming 'Spider' gaming platform, which combines the chipset with the RV670 graphics card AMD has already said will launch mid-November and quad-core Phenom CPUs.
The 65nm RD790 is also expected to support a three-card version of CrossFire.
Details about the 790FX and its RD790 foundation have been doing the rounds for some time, but the low-end 770, mentioned for the first time by Asus, is new to us. Can we also expect a 780 when the chipset launches later this month?
COMMENTS
what i wanna know...
is if they are updating the Crosshair with a newer chipset to support AM2+? and for that matter, is nvidia working on a newer AMD chipset to replace the aging 590i? i've been holding out for a Crosshair board with Socket AM2+, but i want something with a newer chipset rather than just a BIOS update to support the new chips.
i'm reluctant to go with teh AMD chipset until i've heard a lot more about its performance. as it stands the current Crosshair is a pretty awesome board, but it's sporting >1 year old tech and i've gotta wonder if the current chipset is going to bottleneck future upgrades.
Paris, which would you choose?