Navman S30 satnav
Cheerful as well as cheap
Upon using the device, you'll see the main menu is split over two screens, with My Home, Favourites, Recent, Map, Address and POIs on the first. The press of an arrow gets you to the second screen that offers a more detailed split of points of interest as well as comprehensive choices for device preferences.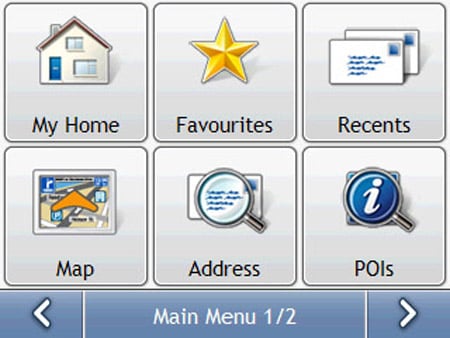 The main menu splits over two pages
Long gone are the days when cheaper GPS units only offered four-digit postcode search, so the Address option gives you the choice to search by City/Area, (full) Postcode, Street Address, or Intersection. Entering characters - and you can opt to have your disembodied satnav voice speak out the key presses - immediately narrows down the list of location choices, depending on whether there is a town, street or postcode that matches what you've entered so far. Anything on the list can be selected the moment you spot the destination you're looking for.
Selecting the City/Area choice gives the option to navigate right to the town centre, which anyone who has tried to do this using other GPS devices without this feature will know is a lot easier than having to conjure up an imaginary address for the "High Street" in the hope the gadget knows what you mean.
With the S30, the address-entering process can quite simply be described as painless, quick and easy. The only minor problem we had was with our slightly shaky hands occasionally getting double-taps on the very sensitive touchscreen, but it could be argued that is something that a regular user - or one with steadier hands - would quickly get used to.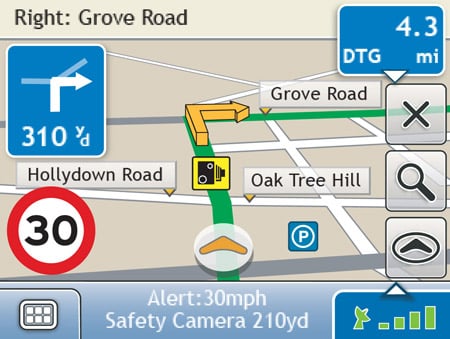 Route calculation is fast and accurate
Navman's claim that the display is "crystal clear" is well justified. We had no problems seeing what was on the screen, even in bright sunlight. As well as the day/night colours schemes, and a brightness auto-adjust function, you can select a custom colour palette for your display. Rather than a frippery, this is a nice extra as people may find some colours more visible than others, although we'd be surprised if anyone would have a problem with visibility, and clarity of maps on the S30.
Sponsored: Minds Mastering Machines - Call for papers now open