T-Mobile Sidekick Slide messaging phone
Still doesn't quite cut it with kids
You can send attachments from the Slide, although they are restricted in size. The Slide can also receive attachments – up to 3MB, or they're bounced back - and certain files, including images, PDFs and Word files can be viewed. Audio files can also be played, but not video.
The Slide comes pre-installed with Yahoo! instant messaging, so if you already have a Yahoo! account you're ready to go.
One of the signature features of the Sidekick concept is Danger's client and server-based automatic back-up and syncing of messages, contacts, organiser information and photos. It all happens in the background, so the user doesn't have to worry about it. What's done on the phone is replicated on a password-protected website. You can also update your Sidekick remotely from here too, and restore your data onto a new device if yours goes missing in action.
Another feature T-Mobile is pushing is the Slide's web-browsing capability. It's simple to use. Click on the browser option and start typing on the keyboard, and the address bar pops up automatically.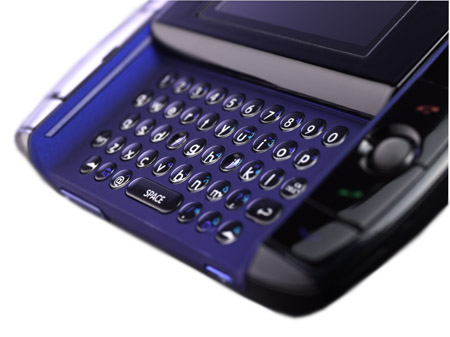 Dinky keys might prove troublesome for those with fuller fingers
The browser uses Danger's server-based technology to tailor web pages to the device's screen and make them quicker to download. Unfortunately, the browser is far from being the best or quickest at rendering pages that we've seen. Some of the pages we looked at were disappointingly presented, and others took longer to load than they do some recent 2.5G phones we've tested. Pages often required lots of scrolling to get to the relevant info or links. Oh for a full-page overview for quick navigation. Adobe's Flash isn't supported, so YouTube and other video content is currently off limits.
More basic pages were rendered fairly quickly, but we can see some of the target audience getting fed up with the un-PC experience on rich media pages. Mobile browsing has moved on, and screen size apart, you'll generally get a richer browsing experience on most Nokia, Sony Ericsson or Samsung 3G handsets these days.
Whizzing through the main carousel to the camera option, you get an indication of how many snaps you can fit into the phone's memory or Micro SD card – significant on this device, as it says you can save up to 1.75MB of photos on it at any one time. Other features have rationed memory space too. If there's no space you'll have to regularly delete pics from the device.
Sponsored: Minds Mastering Machines - Call for papers now open