T-Mobile Sidekick Slide messaging phone
Still doesn't quite cut it with kids
Slipping in a memory card expands storage, although shots saved to the card don't back up automatically online. And you can't send image files via Bluetooth – the Slide doesn't support Bluetooth transfer for images or music files.
You do get an MP3 player here, but you'll need a Micro SD card to make the most of it. The user interface isn't going to give Steve Jobs sleepless nights: tracks are arranged in familiar music player order, but it's not slick or intuitive. There's a "mini-player" control panel that you can call up using a key combination.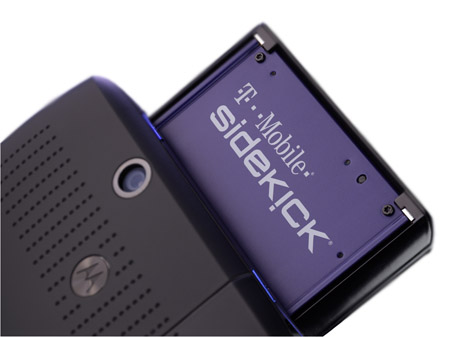 The camera is a disappointing 1.3 megapixels
Music played through the speaker on the back of the device was surprisingly loud and clear, within the limitations of small mobile speakers to deliver bass.
We'll have to reserve judgement on the MP3 player's performance, however. Our early sample was supplied without a headset - it will be sold with one - and the third-party 2.5mm-jack ones we used were only able to get mono output.
The Slide comes with one game pre-loaded Bob's Journey to the Centre of the Earth, and it offers a catalogue of downloadable applications, games, background, ringtones and so on.
Call quality on the Motorola-made Sidekick Slide is excellent. We had no problems with sound quality on either end of conversations. Maximum battery life is quoted at seven hours' talk time or up to 6.5 days in stand-by. In reality, with plenty of web browsing and a bit of music player usage we managed to get just over two days between charges.
Verdict
The T-Mobile Sidekick Slide has some appealing features that we can see would be attractive to a young audience: push email, instant messaging and a keyboard for fast typing. The auto back-up and sync system is an obvious plus point too.
But there are limitations to the device that we can see being a real turn-off: the poor camera, the Slide's hefty size, and the limited multimedia facilities. The browser experience is weak, too. Especially if you've tried an iPod Touch or iPhone.
The lastest Slidekick may be a smaller proposition, but a year on from the last version, in many ways it's looking even more dated.
Sponsored: Minds Mastering Machines - Call for papers now open

T-Mobile Sidekick Slide messaging phone
We suspect the funky, Facebook-savvy target audience might just notice the many shortcomings...
Price:
Free with Flext 30 plus Web'n'Walk tariff RRP