Sony updates Alpha 700 DLSR camera firmware
Thanks to Apple, we live in the age of the firmware update. Time was, only computers needed system software patches, but since Apple began rolling out regular tweaks to the iPod's operating system, more and more consumer electronics kit is gaining updates too. The latest: Sony's Alpha 700 digital SLR camera.
Announced yesterday morning, but posted much later on, the A700 patch takes the 12-megapixel DSLR's firmware to version 2. Sony said the patch results in sharper images for pictures taken under low contrast conditions, reduced noise for pictures taken at ISO 3200, and improved flash control for objects closer than 1m with non ADI-controlled lenses.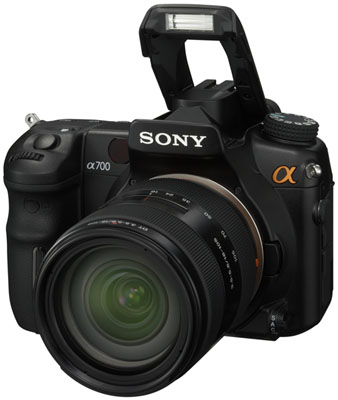 Sony's Alpha 700: patch it like an iPod
The update is aimed at all A700s manufactured through to early October. To find out which is which, check the serial number. Sony's European support site has the details here, while US users can go here. There are different versions of the update for the different regions.
Or you can turn the camera on, then press the Menu and Display buttons simultaneously. A panel will pop up on the display listing your camera's firmware version.
The patch applies to models DSLR-A700, A700P, A700K and A700Z.
Sony has provided patching utilities for both Windows and Mac users, along with new versions of the utilities bundled with the camera for both platforms: Image Data Converter and Image Data Lightbox.
Sponsored: Minds Mastering Machines - Call for papers now open