OQO Model e2 UMPC
Probably the world's best ultra-mobile PC
The Model e2's build quality impressed us - the magnesium alloy chassis seemed both strong and durable. It also helps to keep the overall weight at a non back-straining 470g. The overall fit and finish was generally good, although how the unprotected screen stands up over time remains to be seen.
Features are never going to be a top priority on a device this small, but it's still a shame to see just one USB 2.0 port located on the bottom. This rules out plugging in more than just a memory stick at any one time if you don't want to carry a USB hub around with you. Thankfully, Bluetooth is also part of the package, offering wireless connectivity for an external mouse or keyboard.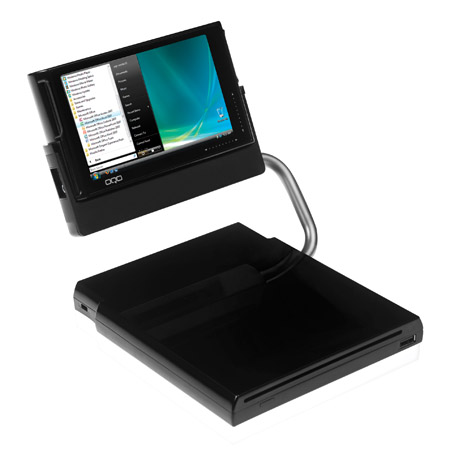 Stand by me: connected to the optional dock
It's perhaps surprising to find an HDMI port on the Model e2 - the OQO can support resolutions of up to 1920 x 1200 pixels on an external display, plenty for output to your HD TV.
As for wired networking, that's included through a dongle that connects to the Model e2's docking port. It's backed up by an 802.11b/g Wi-Fi adapter, letting you take advantage of the nearest wireless hotspots. Unfortunately, HSDPA 3G isn't available at this point.
OQO sells a range of compatible accessories for the Model e2, the most useful being a docking station. Consisting primarily of a slot-loading optical drive, the dock is available with a CD-RW/DVD-ROM for £199/$300, or with a DVD writer for £269/$400. The dock offers an additional three USB 2.0 ports along with HDMI and VGA-out connections to support external displays - an HDMI-to-DVI adapter is bundled. An Ethernet port is integrated, and you get a 3.5mm headphone socket.
The dock is a neat addition, holding the Model e2 in an adjustable cradle supported by an aluminium arm that looks odd at first. However, you soon realise that it lifts the e2 to a height that allows you to view it comfortably without bending your neck too far down. Compare that to almost all other UMPCs, which sit propped up on the desk, forcing you to look down.


The dock alone
As with every other UMPC currently available, heat dissipation is a big problem with the Model e2. According to OQO, temperatures are kept down by the use of a VIA processor, but even so, after just a few minutes the e2 felt rather like clutching a hot-water bottle.
The VIA C7-M processor is a single-core chip, and is available in either 1.5GHz or 1.6GHz guises. It's supported by a relatively limited 1GB of memory, which turned out to be hopelessly inadequate for running Windows Vista in all its glory. The Model e2 felt sluggish during start-up and struggled with multiple tasks.
Thankfully it's possible to specify Windows XP Pro, which is also slightly cheaper than equivalently specced Vista models. We found performance on our XP-based review machine was noticeably better. Granted, it's not going to keep gaming manufacturers awake at night with worry, but neither will you die of old age waiting for Microsoft Word to open.
The OQO struggled when it came to our benchmarks, managing just 95 points in Cinebench 9.5 – one of the lowest scores we've seen. In its native resolution, it scored 801 in PCMark 05, and was unable to perform the tests in our usual 1024 x 768 resolution.
Sponsored: Minds Mastering Machines - Call for papers now open