OQO Model e2 UMPC
Probably the world's best ultra-mobile PC
In the storage department, the base model features a 60GB hard drive, with 80GB and 120GB disks also available. A 32GB solid-state drive can be specified, although the cheapest e2 with an SSD is £1339/$2400, rising to a massive £1539/$2800 when equipped with Vista Business and MS Office. That hefty tag is still worth considering, however - with no moving parts, it's bound to be more robust and cooler to the touch.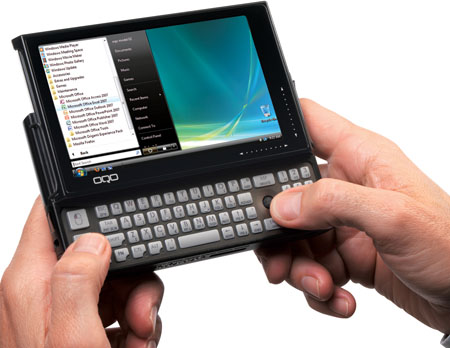 Thumb-friendly keyboard...
The Model e2's chipset features an integrated VIA UniChrome Pro II graphics core, a budget offering that delivers considerably less performance than the Intel GMA 950 chip used by rivals. The Model e2 was unable to run either 3DMark 05 or 3DMark 06, and scored a paltry 84 in 3DMark 03.
Multimedia performance wasn't anything to write home about, though to be fair the Model e2 makes a decent enough fist of running office apps and even the odd movie.
Despite the integrated GPU and small display, battery life was unexceptional, offering just 3-4 hours' usage between charges. A larger, extended battery is an option, offering a more respectable six hours away from power.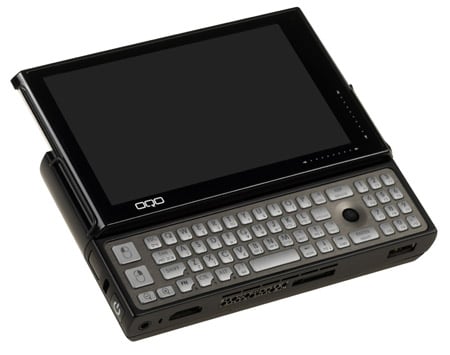 ...but a tricky-to-use integrated mouse
Verdict
The Model e2 is a great example of how diverse the UMPC arena currently is, differing vastly from its rivals. The 5in screen is a reasonable compromise between size and portability, and the slide-down keyboard is the best we've seen on a UMPC.
It's a shame, then, that the Model e2 has many of the same problems as rival devices. After a couple of minutes the heat of the thing becomes annoying, it's still too bulky to fit comfortably in a pocket, and at up to £1539/$2800 it's as far away as ever from Microsoft's dream of an affordable, ubiquitous device.
As a mobile companion for your desktop, the Model e2 may be a winner. It's better than the rest of the current crop of UMPCs, and is actually a usable device. For this money, however, we'd rather have a decent ultra-portable laptop.
Sponsored: Minds Mastering Machines - Call for papers now open

OQO Model e2 UMPC
OQO's Model e2 may be stylish, portable and well-made, but it runs hot, it's not fast and it's pricey...
Price:
£969-1539/$1399-2800 RRP