Sony paints PS2 white... for a while
Old console, new colour, karaoke bundle
Despite investing many millions of dollars into the PS3, Sony thinks the best way of boosting its consoles sales is recolouring the new model's seven-year-old predecessor. So, enter a "limited edition" ceramic white PS2.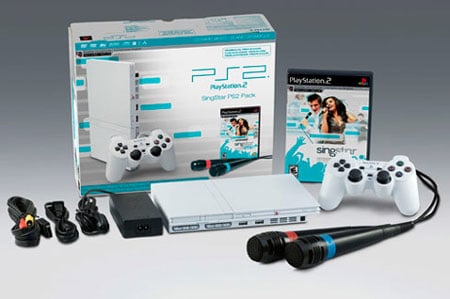 Sony's white PS2 pack: a game and two microphones included
The colour – which is already available in Japan – doesn't mean Sony's changing any of the console's capabilities. However, it will bundle the new PS2 with karaoke title SingStar Pop and two USB-connected microphones.
Initially, the console will appear in the US next month for $160 (£80/€95). But there's no word yet on a European roll-out.
The launch of the colour into the US is no surprise - Sony's currently celebrating the PS2's seventh birthday and hopes to have sold 132m worldwide by March 2008.
COMMENTS
Sony uses new tactic in video games industry race
Is this a sad tactic to try and trick old grannies buying consoles into mistaking the PS2 for a Wii?
Already been done
Over in Japan they used to have the entire spectrum of colors to choose from for the PS2. There's been a gold one to commemorate a new Gundam game, a white one that came with Gran Turismo 4: Prologue (I have that one myself), a sakura (pinkish) colored one, blue, etc., and controllers to match.
Hmmm..
Surely it'd be more apt if they painted the PS3 white. And then stuck a trunk on it.