Intel 'Penryn' Core 2 Extreme QX9650
The world's first 45nm gaming CPU
Running PCMark05 showed that performance rises exactly in line with processor speed and there's nothing to choose between Penryn and Kentsfield running at stock speeds.
PCMark05 Results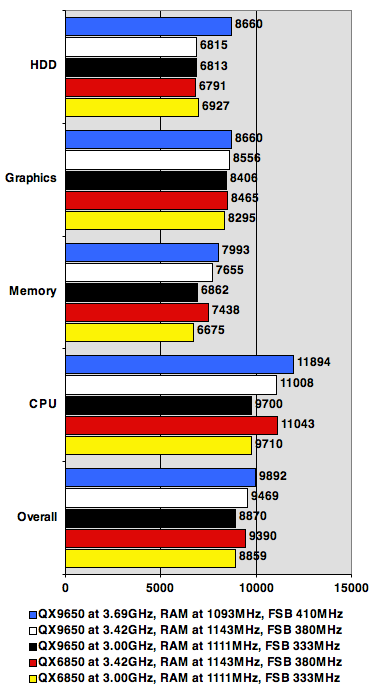 Longer bars are better
QX6850 did not run at 3.69GHz
Recoding an AVI file with Nero 8 to Nero Digital format does show a small swing towards Penryn but it's only eight seconds in five minutes. Again, that leaves very little to choose between stock CPUs.
However, there's a far greater benefit when you use DivX 6.7 to recode the AVI file. The 3GHz Kentsfield takes 10 minutes 59 seconds, but the Penryn steams through the job in 10 minutes 12 seconds. The reason for the extra performance is that DivX 6.7 supports SSE 4, which hands an advantage to Penryn - albeit a small one.
POV-Ray only supports SSE 2 so there's nothing to choose between the two architectures: both yielded roughly the same score. However, it is a fully-threaded application that hammers all four cores at full speed which is handy when you want to check the power draw of the processor.
We used a plug-in power monitor to check the power draw for our test system and found that Penryn was consistently more frugal with the juice. At idle, Penryn uses 45W less than Kentsfield at 3GHz, although the gap is reduced when you overclock. That's a huge percentage of the total power draw, dropping the figure from 155W (minus display) to 110W.
In PCMark05, the system is loaded fairly evenly and once again the difference was 30-45W in favour of Penryn. Finally, we come to POV-Ray where the quad-core processors were running flat-out and the power draw was highest of all with a difference in power consumption of 55W at a 3GHz clock speed. When we overclocked the difference was, once again, 30W.
That's quite remarkable when the QX6850 already runs very cool and is perfectly happy with a near-silent Zalman CNPS8000 heatsink/fan and we have to wonder whether a dual-core Penryn might even be able to run with a passive heatsink.
Verdict
Penryn is a step forward from Kentsfield that offers moderately better performance in day-to-day tasks but when you give it a sniff of SSE 4 it shows a distinct benefit. The much-reduced power draw is very encouraging too. You'd be crazy to spend £649 on the Core 2 Extreme QX9650, but you should most definitely choose a Penryn-based Core 2 Duo or Quad over an older, 65nm model.
Sponsored: Minds Mastering Machines - Call for papers now open

Intel 'Penryn' Core 2 Extreme QX9650
Intel delivers a Penryn punch to AMD moments before the launch of Phenom...