Intel 'Penryn' Core 2 Extreme QX9650
The world's first 45nm gaming CPU
The sample we were sent is the Core 2 Extreme QX9650 which runs at 3GHz. This is the unlocked part that is effectively a reviewer's special, just like the QX6850 and the 3.80GHz 'Northwood' Pentium 4 that went before. The pricing will be in the order of $999-$1149 per processor for a batch of 1000 to give a retail price of something like £649, but you're not going to buy it at that price.
The models that are more likely to appeal are the Core 2 Quad Q9550 at 2.83GHz and priced at $530 (say £349); the Q9450 at 2.66GHz and $316 (about £199); and the Q9300 at 2.5GHz and $266 (maybe £175).
Dual-core models will be the Core 2 Duo E8500 at 3.16GHz and priced at $266 (so £175), a 3GHz E8400 at $183 (£119), and there may well be a 2.83GHz E8300 and a 2.66GHz E8200.
Penryn uses a smaller fabrication process than Kentsfield and has more L2 cache, but the only new feature that stands out is the inclusion of the SSE 4 instruction set, so in many respects it doesn't look like an especially exciting processor. Truth be told, we started our testing with the expectation that we wouldn't see any significant improvement over Kentsfield and had the conclusion 'wait until Penryn hits 4GHz' on stand-by.
We compared the QX9650 with a QX6850 so we've got two unlocked quad-core processors running at 3GHz on a 1333MHz FSB. The test platform was an Asus Maximus Formula SE motherboard - reviewed here itself based on Intel's top-of-the-line X38 desktop chipset and fitted with 2GB of OCZ Reaper PC2-9200 memory, a Hitachi 7K1000 hard drive and an Asus EN8600GTs graphics card, all running on Windows XP SP2.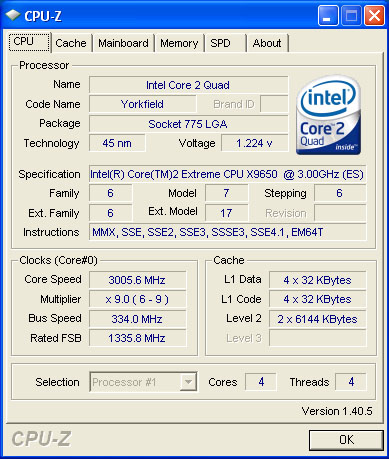 We ran the processors at stock speed and also at 3.42GHz with a 380MHz - 1520MHz effective - FSB which was the fastest that the QX6850 Kentsfield would go on standard voltages. The QX6950 Penryn was happy to run on a 410MHz FSB - 1640MHz effective - to give a clock speed of 3.69GHz. We don't draw any conclusions from those clock speeds as Kentsfield is at the end of its life while Penryn is just starting out.
Sponsored: Minds Mastering Machines - Call for papers now open