Nvidia introduces 'G92'
Mainstream gaming targeted
Nvidia has taken the wraps off its 'G92' graphics chip, the foundation for the GeForce 8800 GT, as past reports revealed.
G92 is a 65nm version of the 'G80' chip that has powered top-of-the-line GeForce 8 series graphics cards to date. Nvidia is likely to pitch the part against AMD's upcoming 'RV670', a 55nm chip it will launch on 19 November.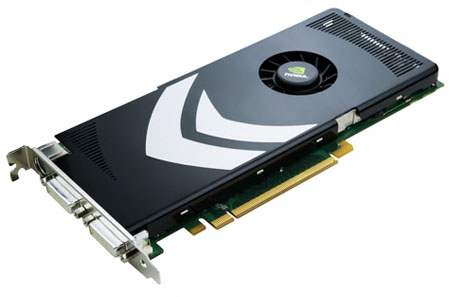 Nvidia's 8800 GT: single-slot cooling
The 8800 GT is clocked at 600MHz clock speed, with its complement of 512MB of GDDR 3 memory set to run at 900MHz. The memory connects across a 256-bit bus yielding up to 57.6GB/s of bandwidth.
Nvidia said the GPU's 112 unified stream processors can fill out triangles at a rate of 33.6bn/s. That puts it above the GeForce 8800 GTS but below the GeForce 8800 GTX.
American Technology Research analyst Doug Freedman last week told investors that he reckons the fight for the mainstream market, with Nvidia's 65nm G92 in corner and AMD's 55nm RV670 in the other, could pave the way for much cheaper graphics cards.
The reason: both chips' use of smaller fabrication processes means their manufacturers can afford to lower prices.
Freedmen claimed early tests show the two GPUs' performance levels are closely matched.
For its part, Nvidia said it was pitching the card at the $199-259 price band.
The smaller process also allows Nvidia to offer the card with a cooler that's thin enough for the board to take up a single slot's worth of space.
The 8800 GT can be used on PCI Express 2.0 cards with DVI and HDMI - the latter with HDCP support - outputs.
Sponsored: Minds Mastering Machines - Call for papers now open