The retro arcade controller
For button tappers everywhere
If wireless, vibrating and hand-moulded console controllers are too complicated for you, then reminisce over arcade machine games with an arcade-style Xbox 360 controller.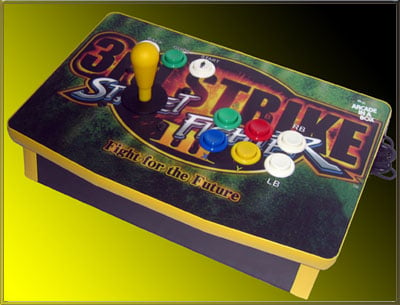 Xbox 360 Solo Controller: Quarters not accepted
The Xbox 360 Solo Controller features authentic coloured convex or concave arcade push buttons and a joystick. Gamers can also choose the colour and layout of their controls to imitate the actual arrangement of, say, a Mortal Kombat arcade machine.
Retro arcade prints, such as Street Fighter, can be overlaid onto the controller.
The controller connects via USB and so could also be used with your PC - however, official Xbox 360 headsets aren't compatible with the unit.
It's available online for around $150 (£75/€95), but there's no mention of an additional coin slot.
COMMENTS
Hori Fighting Stick
A much better option would be Hori's "Virtua Fighter 5 EX2 Fighting Stick". £50 retail and Sanwa parts. Yummy.
Hori's sticks are always great, and at last we've got one here without having to import.
If its not using a WACO steel shaft then its not the real deal...
'nuff said.