Samsung to mass-produce 14in OLED TVs in 2010
Will Toshiba get there first?
Sony may be about to ship the world's first commercial OLED TV, but don't expect anything bigger than the telly's 11in screen until 2010.
Well, not from rival OLED maker Samsung, at any rate. Lee Sang-wan, head of the South Korean giant's LCD operation, yesterday said the company will begin mass-producing 14in OLED (Organic Light Emitting Diode) TVs in that year.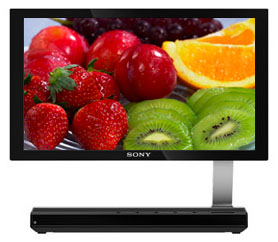 Sony's XEL-1: million-to-one contrast ratio
He's likely to be beaten to it by Toshiba, which last month forecast the production of 30in OLED TVs in 2009. Given the strength of LCD sales and their future potential, we can't help wondering if Toshiba's being overly ambitious. The technology has some way to go - Sony is apparently limiting itself to just 1000 panels a month going into 2008.
Sony announced its 11in XEL-1 in Japan at the beginning of October, but the screen won't go on sale until December. The resolution of the 3mm-thick panel is a not-quite-HD 940 x 540, though the TV will happily take a 1080p signal and squeeze it down.
Active Matrix OLED - aka AMOLED - is seen as one of a handful of technologies that will supersede today's LCD and plasma flat-panel displays.
Sponsored: Minds Mastering Machines - Call for papers now open