Funnyman-loving Facebookers mock US prez race
Obama no better than online privacy
One million Facebook users have made a mockery of American politics.
On October 16, television comedian/newsman Stephen Colbert launched a less-than-serious bid for the US presidency, and within hours, a social networking-crazed high schooler tossed up a Facebook group called "1,000,000 Strong For Stephen T Colbert," an obvious parody of a group dedicated to presidential hopeful Barack Obama.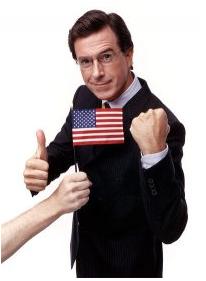 Expert YouTube Witness
And the parody is more popular than the real thing.
After nine months, "1,000,000 Strong For Barack Obama" has fewer than 400,000 members. Meanwhile, "1,000,000 Strong For Stephen Colbert" has lived up to its name in just 10 ten days. Membership now tops 1,020,000 - and counting.
The group's creator claims to have reached 500,000 members faster than any group in Facebook history, but the company has yet to return our phone calls asking if this is true. Clearly, it's much too busy celebrating the overspending of a large software vendor in Redmond, Washington.
Whatever the case, it seems clear that Facebookers are more interested in heavy-handed TV comedians than serious political candidates. But that shouldn't surprise you. These are the same people who prefer virtual feces to online privacy.
In addition to serving as faux newsman and faux presidential candidate, Stephen Colbert is also a witness in the Viacom-YouTube trial. ®
Sponsored: Minds Mastering Machines - Call for papers now open