Panasonic preps in-car Blu-ray player
Are we there yet?
The days of drive-in movies are long gone and the radio sometimes just doesn't cut it for entertainment. So Panasonic's unveiled what's believed to be the world's first in-car Blu-ray Disc drive at this year's Tokyo Motor Show.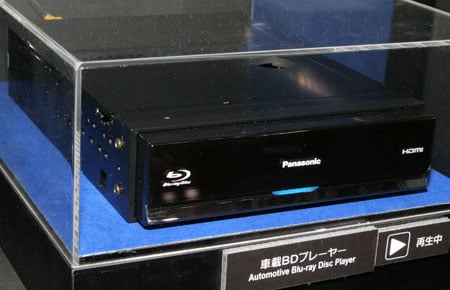 Is this the world's first in-car Blu-ray drive?
The picture comes from Japanese website AV Watch, which claims the unit was demonstrated alongside a 7in LCD screen. The two were connected by HDMI. The player also supports Blu-ray's Java-based interactivity system, BD-J.
A quick scan over Panasonic's Japanese website did reveal a gap for in-car Blu-ray entertainment systems. Its in-car entertainment range currently tops out with the CN-HDS915TD, a 7in model with 40GB hard drive, DVD playback and, of course, iPod support.
Unfortunately, there's no information yet on when or where the new Blu-ray player may appear, or how much it'll cost.
COMMENTS
Err...
....the point is?
You won't spot the difference on any quality on a screen that small any way, so i struggle to see the point at all.
But then again why do people put neons on their car, or drive around with their fog lights on....
It'll sell to the Max Power brigade.
pointless
I'm sure the quality on a 7" screen is amazing.
Hmmmm
Another in-car item to become outlawed because it's too distracting. And the price? Well, if a home Blu-ray player is around £600, an in-car one would likely be £800+. Oh, and the car has to have screens. Or you buy your own...