Cathedral gun battle game not blessed with gaming award
Wii Sports grabs the gongs
Controversial PlayStation 3 game Resistance: Fall of Man failed to take a gong at last night's British Academy Video Games Awards in London, a result that will surely have Manchester church-goers rejoicing. Wii Sports fans also have reasons to be cheerful.
R:FoM was beaten to The PC World Gamers' Award, the only award voted upon by the public, by Football Manager 2007.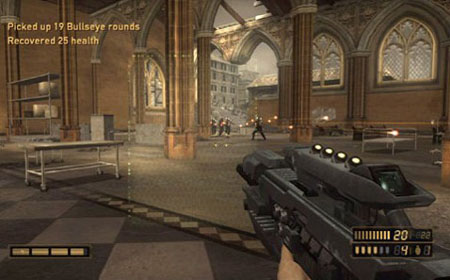 R:FoM: less favoured than footie
Dr Kawashima's Brain Training, FIFA 07, Gears of War, Grand Theft Auto: Vice City Stories and Wii Play, were also nominated for the award, but the presence of R:FoM on the list provoked the most fury, most notably from the Church of England, which wanted the game dropped from the awards because it uses Manchester Cathedral as the location for a gunfight.
However, the biggest glory hogger of the evening was Wii Sports, which won six out of 13 awards categories, including Multiplayer, Sports, Innovation and Strategy and Simulation.
Bioshock won Best Game, while God of War 2 won two awards, for Best Technical Achievement, and Best Story and Character. Okami, a PS2 game about Japenese legends, also won two gongs, for Artistic Achievement and Best Original Score.
A new category to recognise upcoming game designers, dubbed Ones To Watch, was created for 2007. A team of university graduates called Voodoo Boogy took the award for their game Ragnarawk, which uses a virtual magical guitar to fight evil.
Games are nominated and awarded in a two-stage process. In the first round, British Academy of Film and Television Arts (Bafta) members and "industry experts" cast votes on the entries received.
Those games with the highest numbers of votes are then sent to jurors, who spend five gruelling weeks playing each one in a locked room. Jurors then give their thoughts to a panel, which help make up the nominations for each category.
And it's said those at the top work even harder...
Sponsored: Minds Mastering Machines - Call for papers now open