Space shuttle Discovery launched
New International Space Station module in tow
The space shuttle Discovery was successfully launched today, despite zero-hour concerns about a chunk of ice on the fuel tank.
The crew of seven blasted off at 11:38 a.m. EST, on a 14-day mission to begin the refurbishment of the $100bn International Space Station which will house Europe's first permanent laboratory in orbit.
"I'd like to wish you good luck, Godspeed and have a little fun up there," launch director Mike Leinbach told the crew before liftoff.
Just two hours before lift-off, a 10cm by 3.8cm piece of ice was discovered on plumbing between the external fuel tank and the shuttle. The ice, however, was determined to be too small by NASA to pose a serious launch hazard.
The astronauts will install a new Italian-built module for the space station called Harmony, which will serve as a berthing port for the anticipated Columbus laboratory. NASA plans to launch Columbus aboard the shuttle Atlantis on December 6 — a mere five years behind schedule.
Columbus will be the European Space Agency's main contribution to the space station, and has already cost the ESA $7.08bn. The lab is expected to run up an additional $5.66bn through its life-cycle.
The crew will also move an enormous girder and pair of solar panels to a new location on the space station.
Five spacewalks are planned, four to complete the construction and one to test a new method for fixing damaged shuttle thermal tiles. ®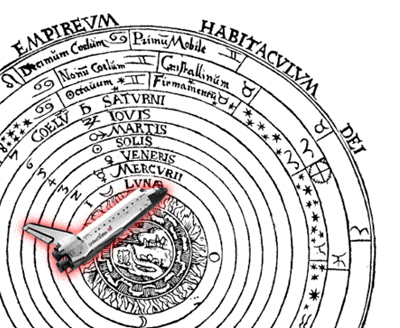 Geocentrist artist's representation: While passing through heaven, they may spot
Abraham Lincoln, Florence Nightingale, and my childhood dog Wuffers.
Sponsored: Minds Mastering Machines - Call for papers now open