Slingbox Pro networkable TV tuner
Tuner sandwich
if, like us, your broadband connection or your router isn't plumbed into the living room, the Slingbox - of any type - is an ideal application for Powerline Ethernet networking-over-the-mains technology. We used a Netgear XEPS103 four-port powerline adaptor - reviewed here - and a Devolo dLAN Microlink adaptor - reviewed here - to bridge the gap between Solo and router, and Sling Media has its own Sling Link adaptor which does the same job. All of these are based on the 85Mbps HomePlug powerline standard.
With the hardware connected, just download and install the right version of the SlingPlayer software for your first playback device. You can set up several of these, but the Pro, like other Slingboxes, will only feed one at once. Running through the standard set-up process was straightforward and, having already set up a Solo, error free. Once again, we connected the Pro to a Humax PVR-9200T digital video recorder, using the composite-video ports, and this time added a Panasonic DVD player on the s-video jack. For HD playback, we connected the component-video dongle to the back of an Apple TV kindly lent to us by Apple.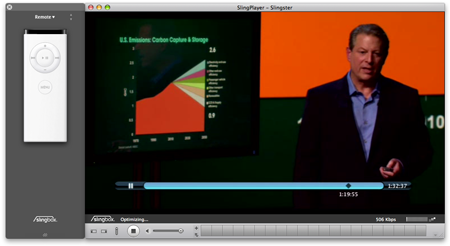 From iTunes on a Mac to a TV - and back to the Mac via Slingbox
Next, we set up the Pro's TV tuner. Despite initially telling us there was no video signal, forcing the SlingPlayer set-up section to scan for channels found a whole heap of channels, though not, interestingly enough, all of those broadcasting - at least, not as many as the Humax can pick up. We initially though it was ignoring encrypted channels, but no, Setanta Sports and a number of other subscription services were listed.
With the channels available, we went through them, adding favourite stations to SlingPlayer's channel bar at the bottom of its window. We did this on the Solo too, just with a few channels. This time we did so more exhaustively, and were a little disappointed to find a number of channels lacking pre-installed button icons. Virgin 1 has only just launched, of course, but Five Life and Five US have been around for some time, and we'd have hoped Sling's UK operation would have included button graphics for these channels.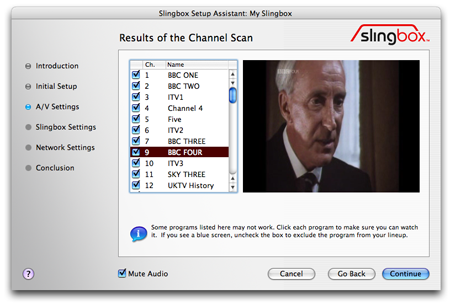 Tuning in to Freeview? You might think that - I couldn't possibly comment
You can add your own button icons - they're just small JPEG files - but who wants to be messing around with image editors for piccies that should be readily downloadable. Auto-download online icon archive, anyone?
Setting up the composite-, component- and s-video sources was much more straightforward, and we were pleased that the Pro's infrared transmitters worked perfectly with the Humax DVR, not once sending two pulses instead of one with every press of the virtual remote's buttons, as we had found with the Slingbox Solo. That confirms the problem lies with the Solo, not the Humax.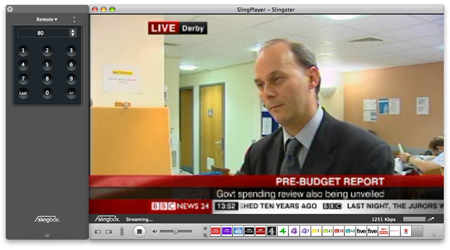 Here is the news...
The Pro treats each input separately, so you have to adjust SlingPlayer's display ratio to 16:9 for each - the Pro, like the Solo, doesn't auto-sense widescreen broadcasts and automatically adjust SlingPlayer's window aspect ratio accordingly.
Sponsored: 2016 Cyberthreat defense report