How to get colour composite-video from an Apple TV
Got a standard def 16:9 telly? Now you too can use an Apple TV
Register Hardware's local Maplin provided the HDMI-DVI connector for a very cheeky £20, while an old Sapphire graphics card review unit furnished the DVI-VGA convertor - it's a stock ATI-branded unit. The first unit's connector is DVI-D, the second one DVI-I.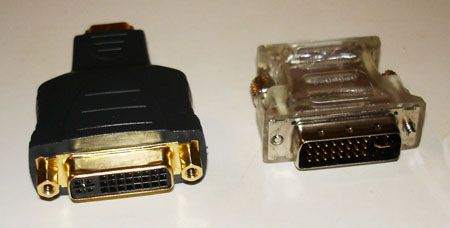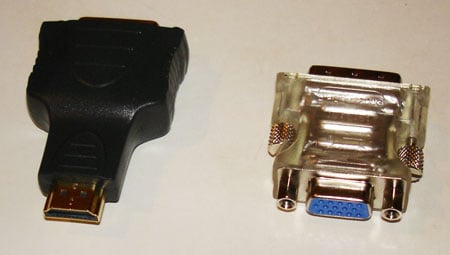 Apple TV adaptors: HDMI to DVI-D (left) and DVI-I to VGA
And yes, it does work. Reconnecting the Apple TV reveals there are now only two resolutions, one of which, 576i, is ticked. Movies, photos, album covers - all are now in colour. Here's the pic to prove it: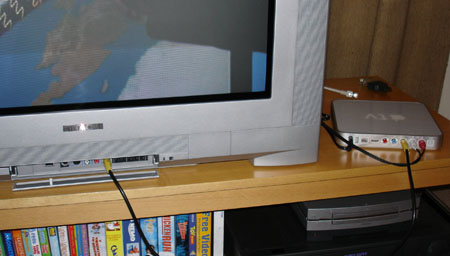 Hurrah! Apple TV output in composite-video colour
Yes, the cable coming out of the Apple TV is the one that's feeding the TV's composite-video port.
Kudos, then, to Mauricio Pastrana for discovering this.
How does it work? The trick is clearly to fool the device into outputting in composite-video. Using the DVI-VGA converter is enough to make the Apple TV think it's connected to a real device - something that the HDMI-DVI unit alone wouldn't do. Removing the unit causes the Apple TV to fall back to the previous resolution, and that's 576i. The green component would seem to be connected to the unit's GeForce Go 7300 and ancillary signalling circuitry in such a way that it's capable of handling a composite signal too. When falling back from the 576p resolution, the Apple TV's video sub-system detects the present of a composite-video device - the TV - and adjusts itself accordingly.
The snag is that this hack doesn't survive powering down the Apple TV - plug the plug and when you restart the device, it's in black and white again. And the timing has to be exact - if you're too quick or too slow at removing the HDMI-DVI-VGA, you'll get the wrong resolution. Not to worry, though: just pull the power cable, restart the Apple TV and try again.
Update Wait until the LED on the front of the Apple TV goes a steady orange before yanking out the HDMI adaptor. It may be five seconds, it may be more. But that's the point at which the resolution is set.
But the bottom line is that Apple TV users shouldn't be forced to hackery when the gadget can support composite-video output. Yes, consumers are buying HD TVs but there are still many, many more standard-definitio screens out there, all of which can be supported by the Apple TV but are nonetheless ignored.
Heck, even if Apple offered a $30 dongle that would handle the conversion, that would still, for many buyers, be a worthwhile purchase and would certainly open up the Apple TV to a much wider audience.
Sponsored: Minds Mastering Machines - Call for papers now open