Nokia N76 mobile phone
Not a poster child for Nokia's sense of originality
Nokia has seen fit to give the N76 something called LifeBlog, an application that puts your pictures, music, notes and other multimedia guff in chronological order. Better perhaps if they had included an application to open word processor files and spreadsheets - after all, the N76 is billed as a "multimedia computer" by Nokia. You can download MobiSystems OfficeSuite 4 from Nokia, but they will lighten your wallet by $50 (£25)for the privilege. On the other side of the coin, the Nokia website does include over 30 free downloadable applications for the N76, including the ever-handy Nokia Maps.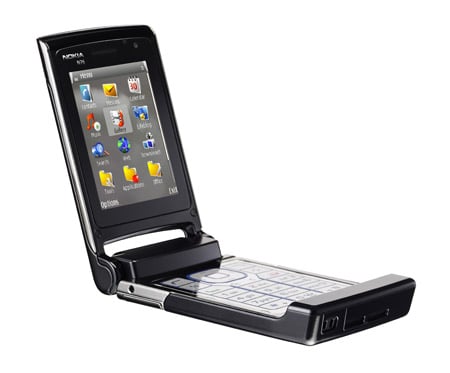 A similar size to Motorola's Razr
Loading up the software on the supplied CD and plugging the N76 into a PC allows you to synch your contacts via PC Suite, transfer data via Mass Storage, manage images via PictBridge and use the media player to synch music content to Windows Media Player. Also in the box with the N76 you get a 256MB Micro SD card, a mini-USB cable, a charger, a rather decent headset with a sort of neck strap that stops your earphones dangling to the floor when taken out, a quick start guide and a comprehensive manual.
Connectivity on the N76 is a bit weak for a multimedia computer. As it's a 3G handset, download times and net access are all fine at a nominal 384kbps; but while the handset works as a modem via either Bluetooth or the USB cable this is handicapped by the absence of HSDPA. The Bluetooth application does not support the A2DP profile needed for wireless headphones, a shame considering the strength of the MP3 player.
One other slight issue with the N76 is that in poor signal areas it seems to struggle to find network reception. In a familiar Reg signal black spot we picked up a decent signal on an HTC TyTn, but got a very intermittent signal on the N76. Both had T-Mobile SIM cards in them. Nokia quote a 200 hour standby time and talk time of up to two hours 45 minutes, while a final interesting feature is the phone's ability to speak the name of the person calling you, so long as their name is in the phone book. We found that quite handy after a while.
Verdict
Fashion accessory or smart phone? The N76 is easy to use, comes with a reasonable suite of functions and - in red at least - doesn't look half bad. The music player is top drawer, while the web browser isn't too shabby either. Avoid the black, unless you really like polishing things.

Nokia N76 mobile phone
Not bad, but ultimately if you want a smart phone, buy an N95, if you want a thin flip phone, buy a RAZR
Price:
from free or £399 (€572) for handset only RRP