Apple iPod Touch
Finger-flicking good?
All the iPhone's gestures are present: flick your finger to whizz through lists and hop from one photo to the next in Photos. Again, rotate the Touch to display a landscape image in the correct orientation, and back again for portrait shots. Put two fingers together on the screen then draw them apart to zoom into the image, or pinch them together again to zoom back out.
All these operations are executed smoothly, giving the Touch a truly interactive feel. You don't press a button and wait for something to happen - all this works in real time.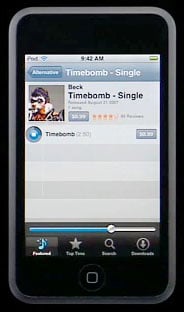 Buy songs without a computer... almost
Zooming in and out is crucial with Safari, which brings web browsing to the music player. You'll need to be connected to a Wi-Fi basestation or hotspot, but when you are browsing it's as fast as it is on the desktop. Each page is initially displayed as a large thumbnail - rotate the Touch to get a slightly bigger view as the page is redrawn to fit the now wider screen - and you can zoom in as you wish, or double-tap to auto-fit a column to the screen's width. Just tap and drag to scroll around the page, scroll bars appearing when you place your finger on the screen to help you navigate.
Safari is a joy to use and turns the Touch into a fully-fledged web tablet that's actually rather better than many handheld web browsing gadgets designed specifically for that task. We found it great for doing quick news checks and Wikipedia look-ups while were spudding out on the sofa after a hard day's work. There are times when you don't want to fire up your computer to look something up online, and the Touch provides a great way to do it. And not a hint of the compromises mobile phone and PDA browsers make.
As we noted, there's no email app on the Touch, but webmail accounts can easily be checked using Safari. Still, we'd have preferred Mail to be present, the better to deal with attachments and the like.
If wireless internet access is essential for web browsing, that goes double for the iTunes Music Store app. It works as well as the desktop iTunes, and there's even a Search tab so you can track down songs and albums that aren't being promoted by Apple in the Featured tab or favoured by other buyers and listed in the Top Songs tab.
Buying's easy - you can sample songs then tap the price to initiate a download. Your iTunes Music Store account details are transferred by iTunes to your Touch, but only once you've already 'proved' your identity by signing in using the desktop app. And you'll still need to enter your password on the device to authorise a purchase. Songs downloaded to the device are copied to your computer the next time you sync your Touch. You can also use iTunes to re-acquired aborted downloads to the Touch, but thankfully we didn't need to try this.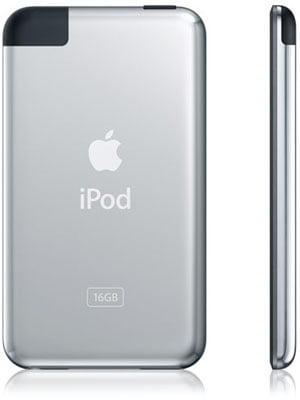 No room for a hard drive?
For many, the Touch's big handicap is its storage capacity, causing plenty of punters to demand a hard drive version. We actually found the 8GB and 16GB capacities quite decent given the need to keep the price affordable - for early adopters and gadget nuts, anyway. Flash memory isn't cheap, and you wouldn't get a device this thin if it had a hard drive in it.
Don't forget that for many, many consumers 4GB is still the sweet spot for a music player, providing enough capacity for a decent selection of songs. Chuck in a further 8GB and you've got room for a good selection of videos too. We tend to listen to a given album a fair few times, but a video we'll watch much less regularly. So we don't need to keep stacks of videos with us all the time. Instead, we load them up as and when we want them. For us, 8GB is a good capacity, and while 16GB would be nice, we don't feel the need to pay extra for it.
Sponsored: Minds Mastering Machines - Call for papers now open