Cassini team ties icy jets to tiger stripes
It could only happen on Enceladus
The tiger stripes at the south pole of Saturn's moon Enceladus are indeed responsible for the powerful jets emerging from the body.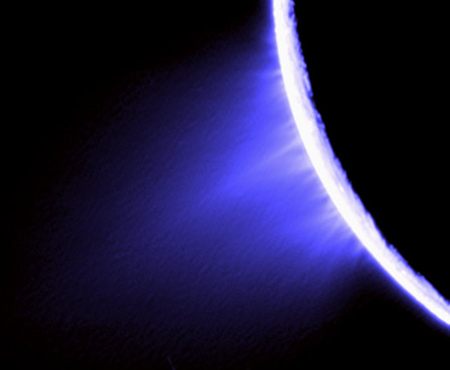 Enceladus' jets. Credit: NASA
The imaging team on the Cassini mission to the Saturn system have spent two years poring over pictures of Enceladus, trying to determine the source of the icy jets once and for all.
Now, according to a paper published in Nature, they have tied the jets to the moon's south pole.
The findings are pleasing, the scientists say, but not surprising.
Speaking at the American Astronomical Society's Division of Planetary Sciences meeting, Nicholas Schneider, a planetary scientist at the University of Colorado, said: "This confirms that these jets really are coming from these geologically fascinating grooves, which really are the warmest places."
In 2005, Cassini identified hot spots on the moon, and now the team has confirmed that the hot spots correspond with the tiger stripes, four major geological faults near the moon's southern pole.
The team confirmed the link between the two phenomena by comparing the locations of relatively warm jets emerging from the moon, the tiger stripes and hot spots on the surface on the moon. Virtually every time, the location of the three matched.
"This is the first time the visible jets have been tied directly to the tiger stripes," said Joseph Spitale, an imaging team associate and lead author of the Nature paper. Spitale works with Cassini imaging team leader and co-author Carolyn Porco at the Space Science Institute.
All the jets fell on a fracture, but not necessarily on a hot spot. These rare mismatches suggest there are other hot spots still to be discovered, Spitale says.
And there are still plenty of other mysteries to be solved.
"These are findings with tremendously exciting implications and to say that I am eager to get to the bottom of it would be a cosmic understatement," Porco said in a statement.
"Do the jets derive from near-surface liquid water or not? And if not, then how far down is the liquid water that we all suspect resides within this moon? Personally, I'd like to know the answer yesterday." ®
Sponsored: Minds Mastering Machines - Call for papers now open