Asian manufacturers race to ready iPhone-alikes
Touch sensitive
Guess what? Taiwanese handset makers are scrambling to ready iPhone-like communications gadgets and could have them out the door before July 2008.
Surprise, surprise. The iPhone is certainly the best known - and most hyped; though the two factors are directly related - of the new breed of touch-operated handsets, but it's by no means the only one. HTC has launched its Touch, which adds a touch-control veneer to Windows Mobile 6, and LG has been selling its Prada-branded KE850 - reviewed here - since February. The Prada has a unique operating system, and so does Samsung's F700, it seems. The F700 is due to go on sale next month.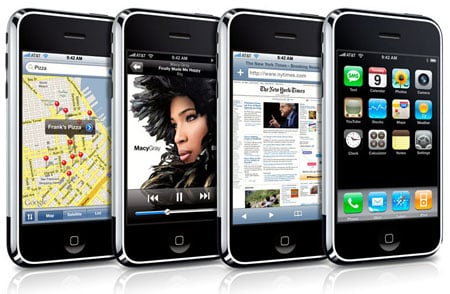 Apple's iPhone: the one to beat?
To that list we can apparently now add lookalike handsets from Asus, BenQ, Compal and Arima, Taiwanese newssite DigiTimes reckons - all busily trying to ride on the back of the bandwagon Apple has given so much momentum to.
And why not? If you can't join 'em, beat 'em. Nokia is also working on such a device, the report claims, and we'd be very surprised indeed if it were not.
Whatever you think of the iPhone - you can read our view here - it has raised the bar for smoothly running, intuitive to use handset user interfaces. Is that going to matter more in the future than piling on function upon function? The iPod suggests it may well do.
Competing will be intense. HTC recently said it had sold 800,000 HTC Touches - reviewed here - in the first three months it was on sale, just shy of the million iPhones Apple sold in the US alone in the same period.
Sponsored: Minds Mastering Machines - Call for papers now open