Standard messaging options include a POP3/IMAP4 email client. Among the other productivity tools included are the usual calendar, tasks, notes, timer, stopwatch, calculator and password code memo functions. You can record voice memos too.
Connectivity options include A2DP wireless stereo streaming over Bluetooth. The W660i is supplied with PC Suite software for synchronising your phone and desktop calendars and contacts etc, and handling image and music transfer.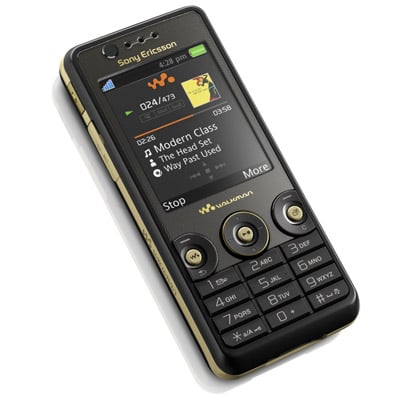 A slick platform for listening to tunes?
Sony Ericsson supplies a bit of gaming entertainment too, with a couple of enjoyable Java titles: the 3D Extreme Air Snowboarding and Tower Bloxx. Other apps loaded onto the phone include a music chord guide/mini-beat-box/metronome app, Music Mate 2, and a gimmicky picture distortion app, FaceWarp.
Voice calls are the basic nuts and bolts of any phone, of course, and the Sony Ericsson scores top marks on this count. It delivers consistently high quality audio at both ends of the line, across various networks, well balanced and clear, even when signal strength dipped.
Sony Ericsson quotes standby time at up to 360 hours, with six hours of talktime using GSM or two hours 30 minutes on 3G. Using the music player, camera, and other functions inevitably take its toll on the battery life – if you use the Walkman heavily you'll be looking at charging every couple of days. But in regular phone usage with a bit of tune dipping the W660i doesn't have any alarming battery issues.
Verdict
The Walkman player is undoubtedly the key attraction for most buyers of the W660i, and it's unquestionably a good value package. There are no complaints on the Walkman player's performance – very impressive all round. The camera is a bit of a let-down, though, as it's not quite as good as the one on the 2.5G W610i, so it seems there has been some trade-off with the added 3G functionality that potential buyers will have to weigh up. A shame.
Sure, Sony Ericsson's W660i isn't one of those phones that's going to get pulses racing, and we've seen all that it offers before. However, it'll fill that mid-priced 3G gap in Sony Ericsson's Walkman range perfectly well, because the bottom line is that it offers a good set of features for the price, including a fine music player experience.

Sony Ericsson Walkman W660i music phone
A great music player - and not an all bad phone either...
COMMENTS
Conspiracy Theory
I'm not certain that it isn't a deliberate ploy by manufacturers to cripple phones so that they only do certain things properly, in order to get you to (a) buy a more expensive phone than you really wanted, or (b) buy two phones (and forever be topping them up). So the K-series have the best cameras, while the W-series have the best media players, and the P-series ..... well, we all know what the P is short for, don't we?
I've also noticed that Nokia phones seem to be getting a bit less ugly -- not that they could possibly get any *more* ugly. In fact the latest offerings from Nokia could almost be mistaken at first glance for Sony Ericssons, were it not for the "send" and "end" keys.
But when all is said and done, the primary purposes of a mobile phone are sending text messages, making and receiving voice calls and remembering the necessary names and phone numbers to make this possible. Photography, music-playing and personal organiser features are secondary. But then, we live in a culture where some people attach greater importance to ticks in boxes than the text alongside those boxes .....
why the awful camera?
The k750i, years old now, also had a 2mp camera but with macro and (especially) autofocus. With this phone they've managed to add the ten things you could possibly have missed on a k750i - but taken away autofocus, to blur your pictures.
I do hope this isn't camera-crippled just for marketing reasons - "ah, a half-workable camera? you want the *K* range, this is the *W* range mate, more walkman-oriented"...
Cheap 3G phone
This looks like the chepaest 3G phone yet.
When you're stuck with a Three SIM that only works in 3G phones, which have a habit of breaking, it's good to know there's a sub 200 pound replacement available. It'll be better when they get to sub 50 pound, then I'll consider buying a spare. Three's repair service isn't bad, but a 3 day turn around soon grows with Royal Mail's strikes.
Why 3G?
So you can use the phone as a laptop modem?
It's pretty good actually...
Decent phone, decent MP3 player, OK camera. Had one for two months, nothing to complain about! Web browser is good for such a small screen.