There's a key to engage the camera on the side of the W660i, along with volume controls that also operate the camera's zoom. The W660i's Memory Stick Micro (aka M2) card slot is on the side too, so you can hot-swap cards easily. A 512MB card is bundled in the box.
The W660i uses Sony Ericsson's regular menu set-up: a grid of icons, each of which takes you into lists of options. Sub-menus are presented as a single page of options or a series of tabbed multi-page panels. Despite plenty of configuration choices and a healthy amount of functionality inside, the menu system manages to avoid overwhelming with complexity; you see what you need to see on an uncluttered display, and it's intuitive to use.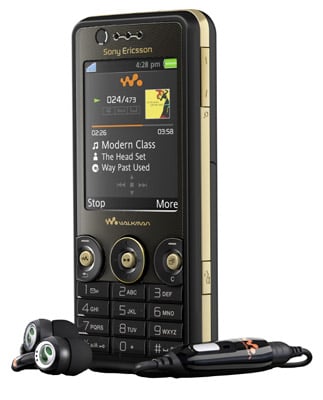 The mic module has a 3.5mm jack connector so you can plug in other headphones
Sony Ericsson kits out its Walkman phones with strong add-ons in the box, including decent quality stereo headsets and generous-sized memory cards. The W660i package also comes with the regulation two-piece Walkman handsfree kit. A proprietary connector clicks into the base of the phone, with a 3.5mm jack connector midway on the in-line mic module, so you can also plug in other standard headphones.
The audio performance through the supplied headphones was very impressive, clear and precise, with plenty of bass response without having to tweak the phone's equaliser settings or trigger the Mega Bass option.
The Walkman 2.0 music player provides a slick platform for listening to tunes. It supports MP3, AAC, AAC+, eAAC+, WMA and AMR file formats. The user interface is detailed and sophisticated-looking, including support for album cover art. When activated, the phone's navigation pad becomes the Walkman control panel.
The Walkman player uses a neat graphic icon-chain to show where you are in the menus when scrolling through your tunes from the My Music menu. Options include artist, album, track and playlist listings, while there are one-touch links to Sony Ericsson's online downloads site or a network-based online music store, if you're using a network-locked version of the W660i.
COMMENTS
Conspiracy Theory
I'm not certain that it isn't a deliberate ploy by manufacturers to cripple phones so that they only do certain things properly, in order to get you to (a) buy a more expensive phone than you really wanted, or (b) buy two phones (and forever be topping them up). So the K-series have the best cameras, while the W-series have the best media players, and the P-series ..... well, we all know what the P is short for, don't we?
I've also noticed that Nokia phones seem to be getting a bit less ugly -- not that they could possibly get any *more* ugly. In fact the latest offerings from Nokia could almost be mistaken at first glance for Sony Ericssons, were it not for the "send" and "end" keys.
But when all is said and done, the primary purposes of a mobile phone are sending text messages, making and receiving voice calls and remembering the necessary names and phone numbers to make this possible. Photography, music-playing and personal organiser features are secondary. But then, we live in a culture where some people attach greater importance to ticks in boxes than the text alongside those boxes .....
why the awful camera?
The k750i, years old now, also had a 2mp camera but with macro and (especially) autofocus. With this phone they've managed to add the ten things you could possibly have missed on a k750i - but taken away autofocus, to blur your pictures.
I do hope this isn't camera-crippled just for marketing reasons - "ah, a half-workable camera? you want the *K* range, this is the *W* range mate, more walkman-oriented"...
Cheap 3G phone
This looks like the chepaest 3G phone yet.
When you're stuck with a Three SIM that only works in 3G phones, which have a habit of breaking, it's good to know there's a sub 200 pound replacement available. It'll be better when they get to sub 50 pound, then I'll consider buying a spare. Three's repair service isn't bad, but a 3 day turn around soon grows with Royal Mail's strikes.
Why 3G?
So you can use the phone as a laptop modem?
It's pretty good actually...
Decent phone, decent MP3 player, OK camera. Had one for two months, nothing to complain about! Web browser is good for such a small screen.