JVC floats buoyant speaker for bathtimes
If you can't bear to be separated from your music while taking a bath, JVC may be able to help you. It's created a speaker that's actually designed to float alongside you while you take your daily scrub.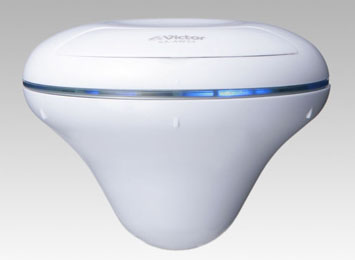 JVC's floating speaker
The XA-AW33-W is marketed as a "healing player", although its medicinal properties aren't immediately visible. The dome-shaped player measures 8.7 x 12cm, and it has a faint blue light band around its edge that shines on the water's surface as the unit out your favourite bathtime tunes.
It comes pre-installed with a selection of relaxing tunes. However, its 256MB Flash memory can hold your MP3 and WMA music files too, which can be transferred onto the player via its USB 1.1 port.
A flap on the player's front lifts up to reveal the controls, and JVC claims the XA-AW33-W can operate in temperature ranges between 0°C and 42°C - if there's anyone brave enough to try... It's powered by four dry-cell batteries and also comes with a plastic stand for use, say, in the kitchen or as a bedside mini-stereo.
The player is currently available in Japan for ¥19,800 (£83/€120/$168), but no European release date or price has been announced.
Earlier this month, Register Hardware featured a futuristic-looking MP3 player, dubbed the Juketower, that's designed to be used while you wash, but which sadly is only splashproof.
COMMENTS
Errrr ....
Maybe it's my scatological frame of mind, or the fact that it's Friday, but when I first clapped eyes on this I immediately thought of armoured underpants(!)
I'll shut the door on my way out ...
This is about as useful
...as a useless thing.
For a minute there, I thought it was a new toilet pan design
When I saw the photo and reference to bathtimes, I thought....gee, is this a new toilet pan design for adults with built in speakers. A bit like the modern kids potty trainer which makes a tune for each dollop of err...dollop they do.