Sony off-shoot unveils 'cheaper' Blu-ray drive for laptops
BD burner for desktops too
Updated Optiarc, the optical drive joint venture between Sony and NEC, has taken the wraps off its first Blu-ray Disc playback drive for laptops, claiming the machine will allow notebook makers to equip mid-range models with the next-gen disc format.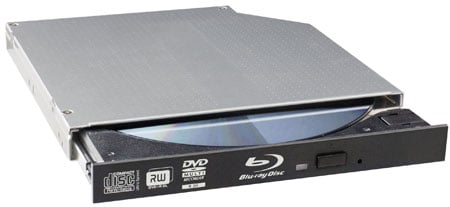 Optiarc's BC-5500A: Blu-ray playback for laptops
Optiarc's BC-5500A doubles up as a standard CD and DVD burner, writing single-layer DVD±R/RW, dual-layer DVD±R, DVD-RAM and CD-R/RW media at up to 8x, 4x, 5x and 16x speeds, respectively.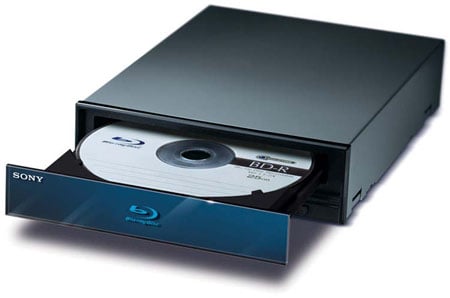 Optiarc's BWU-200S: 4x BD-R burning for desktops
Optiarc said the drive is available to buy now and that it will retail for around £165 ($335/€238) inc VAT.
Separately, Sony also introduced a new desktop BD drive, the BWU-200S. This one can burn BD-R and BD-RE media too, with BD-R recording speed running at 4x - though only 2x for BD-RE.
The drive is due to go on sale in the US in November for around $600.
COMMENTS
Re: Irony Alert
"How many people have legal mp3 collections that need 25Gb storage?"
Me, and possibly quite a few others.
The music collection currently stands at 170Gb before accounting for the stuff I compose myself, which is generally stored in WAV format prior to (re)mixing and mastering. Probably looking at somewhere nearer 200Gb once this is taken into consideration.
Backup is enough of a nightmare as it is - I'd dearly love to get all of my master files onto a single disc for archival purposes but then again, Sony's involvement in Blu-ray is enough to make me not want to touch it with a shitty stick. I really miss my DAT drive ...
RE: Irony alert
<<Perhaps someone who has gone loopy with the home movie camera? >>
You can buy HD camcorders. Obviously the file sizes are much larger than from the older camcorders.
re: irony alert
My legal music collection is well over 25GB, around 150GB I believe, because its not stored in 128kbs mp3, its store on my PC in 1000kbs+ lossless files (and on the original CDs).
The idea of being able to back-up my entire CD collection (300 or so disks), in lossless formats, on a couple of disks, is quite appealing, actually.
Sony cant win
Look at the first two comments - looks like sony cant win whatever they do!
@ irony alert: There are lots of legitimate applications
"OK, can anyone suggest a use for 25Gb storage on a disk burned on a home PC?"
Easy!!! (1) Backups. I mean, the normal PC hard disk size has been way more than 25Gb for years! (2) Backing up home videos in the original DV format that tape-based digital camcorders record it in, in order to retain maximal quality.Yes, you can put a hour or two of video on a regular DVD, but only if you use lossy compression like MPEG2. In DV format you need something like 20x the space compared to MPEG2.